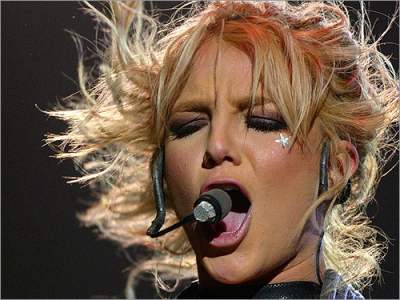 After a really long 2 year wait, finally Britney Spears highly anticipated album will finally hit the stores this year.
According to Aceshowbiz, song writer and producer Rodney Jerkins, 'Darkchild', who is currently working on projects with other stars like, Ciara, Jennifer Lopez, Anastacia, Beyoncé, and his new R&B girl group Purple Reign, to name a few, also revealed that Britney's fans would soon be happy, as she is working with him on her new album.
Last heard rumours of Britney's comeback ended in a leaked demo version of "Telephone" by Lady Gaga previously recorded by Spears.
This time the album will see a lot of mix for the 28 year old singer, totally revamped, including a co written song by Reggae artist Predator Dub Assassins. As per tweets, wherein he mentions it will be sung by Britney and Akon, it will also feature a song written by song writer Danja, who gave the songstress her previous hit, 'Gimme More' in 2007.
But the songstress as per twitter chats that surfaced in May, said that she would love to do a duet with Robbie Williams, reckoning the British singer. I personally hope she does that would be the highlight of the album for all Britney and Robbie William fans.