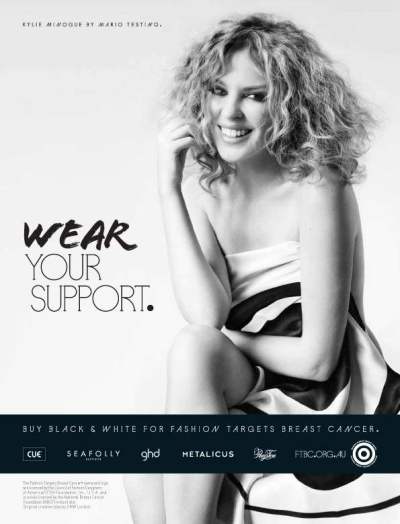 Sable & Argent's black and white bull's eye warehouse in Bourke Street saw a beautiful star studded night for the launch of Fashion Targets Breast Cancer Campaign.
It was a black and night evening with FTBC's ambassador's Anneliese Suebert, Pip Edwards and the touching speech of Zoe Naylor that came straight from her heart. The products of Seafolly, GHD, Cue, Peeptoe dedicated to the Campaign, were on display for the 1st time, including oversized artistic creations by James Gordon.
The highlight of the evening being cancer survivor and Australian sweetheart Kylie Minogue as she also she headlines the 2010 campaign, to raise a widespread awareness and greater funds for breast cancer.
The launch due August 2010, features a shot by photographer Mario Testino, seeing Kylie in a black and white picture which is to be used as a reminder to 'Wear Your Support' a message to be sent out to all young women in Australia, for those whose are battling Breast Cancer. The proceeds of the campaign are to go to the National Breast Cancer Foundation.