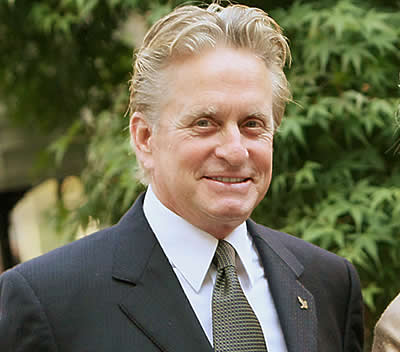 Announced earlier this week, a tumor was discovered in Michael Douglas throat. Doctors say that the treatment procedures may alter or even take away Douglas voice.
The Oscar winning actor, will undergo an aggressive eight weeks chemotherapy and radiation to kill the developing tumor inside his throat.
Dr. Eric Genden (chief of neck and head cancer surgery) at Mount Sinai Medical Centre in a statement to Daily Mirror said, that radiation is required to treat a malignant tumor not a benign one.
Douglas is probably having a malignant tumor. However, the size and the nature of the tumor are still not clearly known.
The 'Wall Street' actor consulted a doctor after he faced difficulty in swallowing. Douglas' longtime drinking and smoking habits are blamed to be responsible for his condition.
The sixty-five-year old actor, married to actress Catherine Zeta Jones is very optimistic about the whole thing.
We pray for a quick recovery!!!