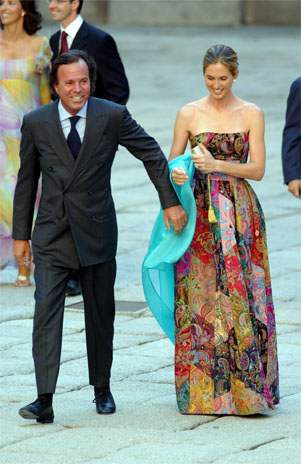 Pop star Julio Iglesias, 66, tied the nuptials with his girlfriend Miranda Rijnsburger, 44 on 24th of August in Marbella, Spain, reports HOLA! magazine.
The couple has been in a relationship for 20 years. Former Dutch model Miranda Rijnsburger is also the mother of Julio's five children.
Julio met Miranda in Indonesia in late 1990 and got into a relationship. The couple has 3 sons and twin daughters named Miguel, Rodrigo, twins Cristina & Victoria and Guillermo.
The wedding was witnessed by their five sons and two other witnesses.
Julio Iglesias has three more children with his previous marriage to Isabel Preysler namely Isabel, Julio Jr. and Enrique. The marriage ended in 1979.