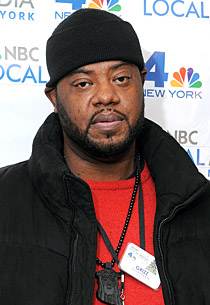 30 Rock actor Grizz Chapman admits that he'll always be grateful to the 20 year old Arizona man whose kidney saved his life.
The 6' 10" actor was diagnosed with kidney failure two years ago and underwent a kidney transplant in July. His donor was a single Arizona guy who does not wish to be identified. Strangely, the man in question is not even a 30 Rock fan and just wished to help a stranger.
The funnyman who plays Tracy Morgan's sidekick in the TV series suffers from severe hypertension, and had to drop over 150 pounds in order to undergo the lifesaving operation at Montefiore Medical Center in New York.
Chapman is in regular touch with the donor and says that they talk all the time.
Image: teamseriestv.com