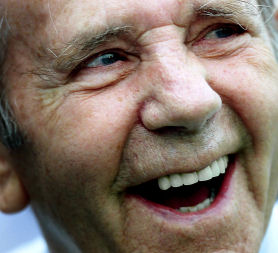 Veteran actor Sir Norman Wisdom succumbed to old age and ill health in a care facility on Monday. He was 95.
A statement from the nursing home said that a series of strokes had left the entertainer weak both physically and mentally. He died a peaceful and painless death.
The slapstick actor, who will best be remembered by his childlike onscreen character Norman Pitkin, was knighted in 2000 and spent much of his later life on the Isle of Man.
Image: channel4.com