Stepping out for a fun-filled and high on style evening, celebs walked the red carpet for the MTV Europe Music Awards. The event was held at La Caja Magica in Madrid, Spain on Sunday. The 2010 installment was hosted by 'Desperate Housewives' beauty Eva Longaria and boasted of stellar performances by Rihanna, Shakira, Linking Park, B.o.B., Katy Perry, Miley Cyrus and Ke$ha among many others.
Let us check out who wore what and how:
Katy Perry & Russell Brand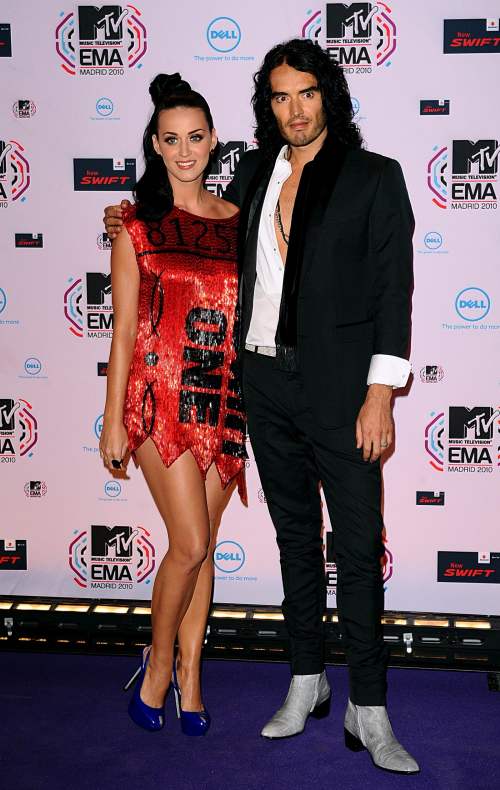 Newly-wedded Perry showed up with hubby Russell Brand in tow. The host of the last two editions of the show, Perry turned up in a bright red sequined Jeremy Scott dress with a zigzag hemline. The hemline was high and the dress had a ticket design saying 'Admit One'. The pairing with blue shoes was striking and interesting. Meanwhile Russell wore his trademark look in an undone tuxedo. The pair looked lovely making their first public appearance and husband and wife.
Miley Cyrus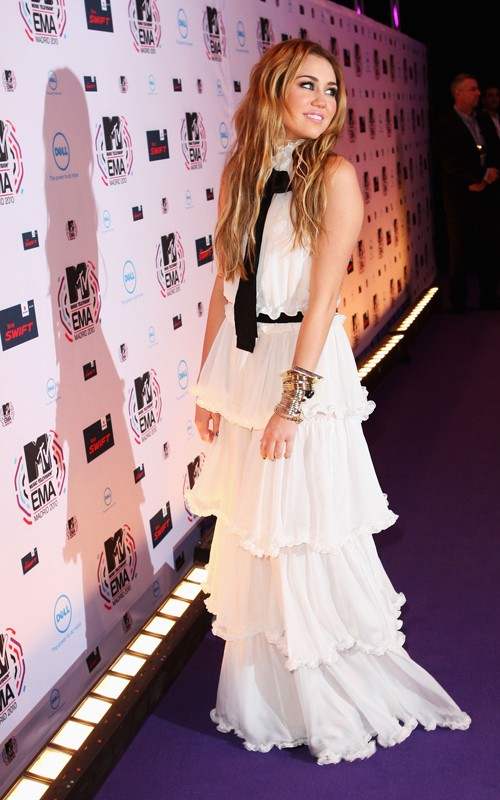 The teen pop star wore a long and high-cut white tiered Dolce & Gabbana dress with a long black bow and black belt. She rocked the look with chunky metallic bangles. The look was modest in a way Cyrus is rarely seen flaunting and came as a breath of fresh air.
Emily Osment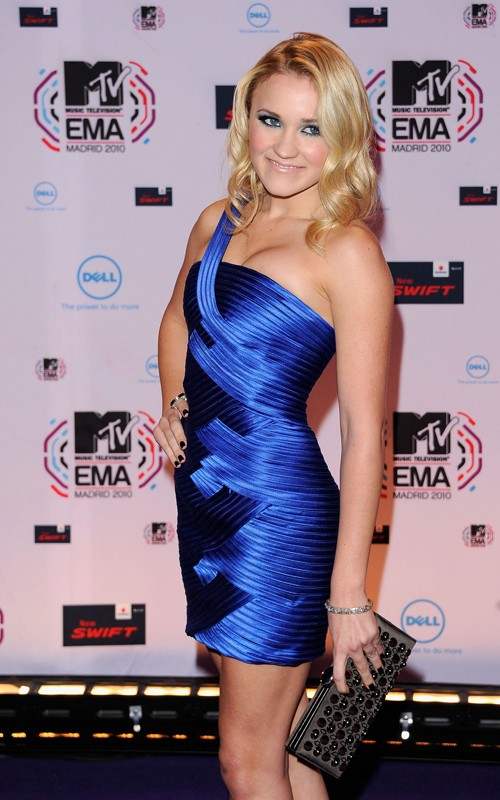 Joining her Hannah Montana co-star Miley, Emily went in for a bright blue Max Azria Bandage dress with blond soft curls falling down her shoulders.
Shakira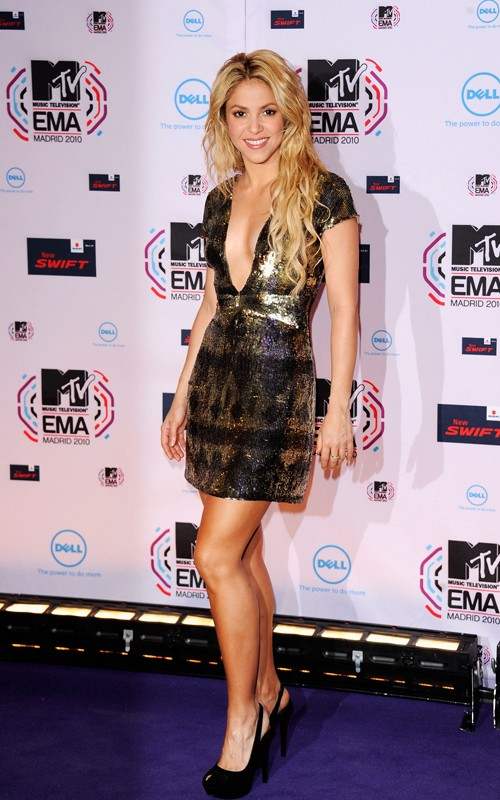 The Latino singer wowed onlookers with a plunging neckline shimmery dress with a hint of gold and pimped it up with sling back black stilettos.
Nicole "Snooki" Polizzi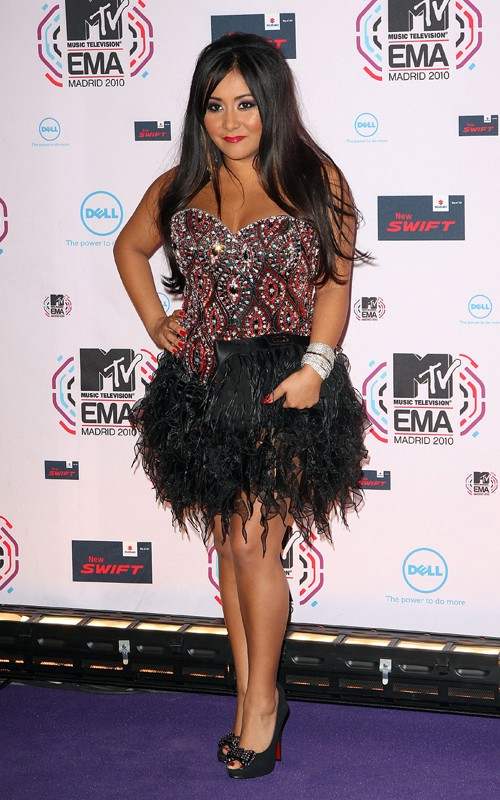 Snooki paid homage to her Spanish heritage in a feathered short skirt by Sherri Hill. She teamed it up with red and black sequined bodice.
Ke$ha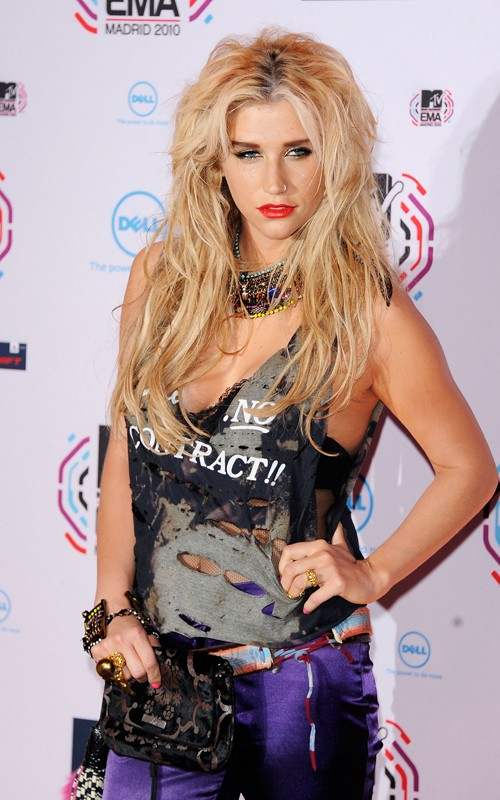 Ke$ha flaunted a look straight out of the 80s with purple flared satin pants and straight out of bed hair. She wore a ripped tee to complete her wild child look. The pieces were totally unrelated and maybe the singer should have done better.
Kelly Brook
Brook added a touch of beautiful elegance to the award ceremony. The hottie sizzled in a sweetheart neckline gold dress with high stilettos.
Rihanna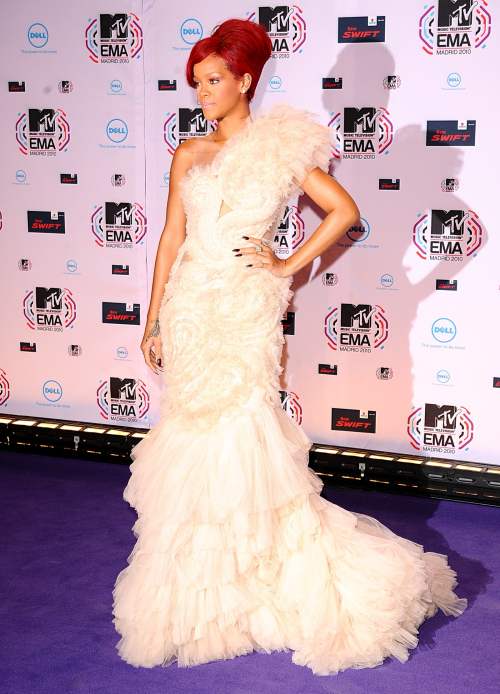 Rihanna too went in for a look of sophistication and elegance. The detailing on the off-white Marchesa gown was extravagant but Rihanna looked stunning in it. The form fitting outfit complimented her curves perfectly and her bright red hair worked beautifully with the pale dress.
Taylor Momsen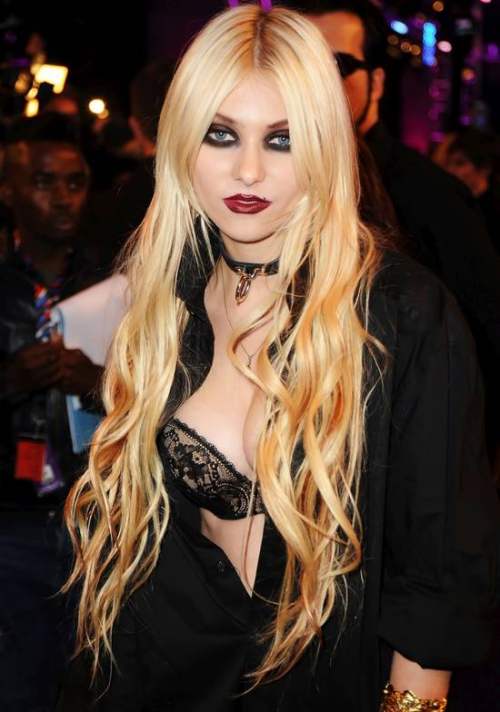 17 year old Taylor rocked the Goth look in chic over-the-knee Alexander McQueen boots and a black button down tee with a bustier underneath. She went for heavy eye makeup and left her hair tumbling down her shoulders.
Which look wins your thumbs up and who disappointed you with their look? Comment below and let us know!