At fashion events where celebs try to outdo each other by wearing unique dresses, make up , accessories, hairdo and the likes, it is not very often that two celebrities are caught wearing similar outfits and that too at the same event!
Well, the fashion world saw something of this sort happen recently, at the premiere of the movie "Jumping the Broom".
Actress Meagan Good and Maya Gilbert appeared at the red carpet event wearing quite similar dresses.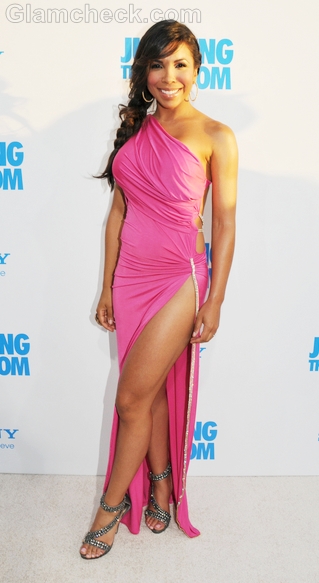 Maya Gilbert : bright pink figure hugging gown  one shoulder and backless
Maya Gilbert was wearing a dress designed by her – bright pink figure hugging long dress, asymmetrical with one shoulder and backless. The slit was really high- almost reaching her top thigh and was accentuated with silver sequin detailing at the slit. The back of the dress had silver ties, criss crossing in no specific pattern. We love what Maya is wearing – it is daring, to say the least with that high slit and no back!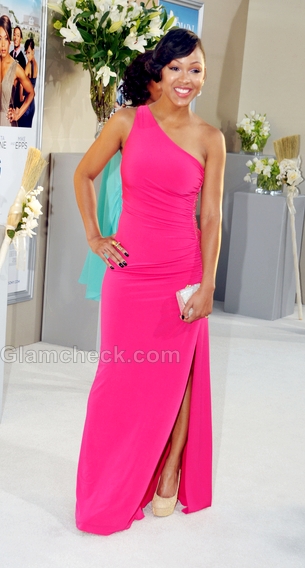 Meagan Good : bright pink figure hugging, one-shoulder gown
Meagan's figure hugging dress on the other hand too was a pink – a lighter coral pink though, with one shoulder, a slit( not as high as Maya's though). And guess what, the similarity did not end there– it too had silver detailing – at the side hip seam. Meagan's attire was understated, when compared to Maya's outfit and did justice to her well toned physique.
The two celebrities sported different hairstyles and makeup though – Maya going the barely there, nude look with a loosely made fish plait and just a hint of pink on her cheeks and Meagan going with a little more colour on her lips and donning a back bun.
Which of the two outfits do you like – Maya's or Meagan's?
Image: P R Photos