The Charmed actress/ singer was spotted at the "The Hangover Part II" Los Angeles Premiere. The actress looked a bit on the heavier side but all for the good cause. The health and a certain charm on her face was because of her pregnancy. Milano is reportedly due to have the baby this fall.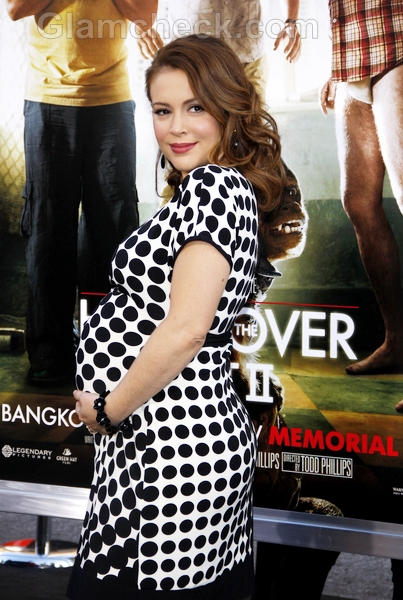 The actress flaunted her baby bump in a black and white polka dot knee length dress and looked absolutely endearing. The charisma of being a mother was reflecting on her face.  The mother to be was very excited and exhilarated to welcome her new family member soon with beau CAA agent David Bugliari.  She looked absolutely comfortable and exceedingly stylish with minimum efforts. The tunic dress graced her body well and blended perfectly with her current figure.
Her hair was left open to fall freely on the shoulders. Her copper brown hair was neatly pinned on one side and the gorgeous curls were falling freely on the other.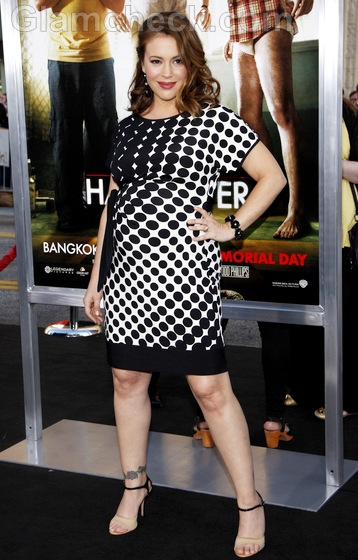 The glow on her face was more than enough and that is what she exactly stuck too. Apart from a bit of eye makeup and vivid red lip color, she kept it bare minimum and looked beautiful. She paired the dress with beige colored stilettos with her tattoo showing prominently on the right ankle.
We want to wish this would – be – mother all the luck and happiness and keep checking out her style mantras.
Image: P R Photos