The Sony Pictures Studio in Culver City California saw actress Holland Roden in a "confused" white number.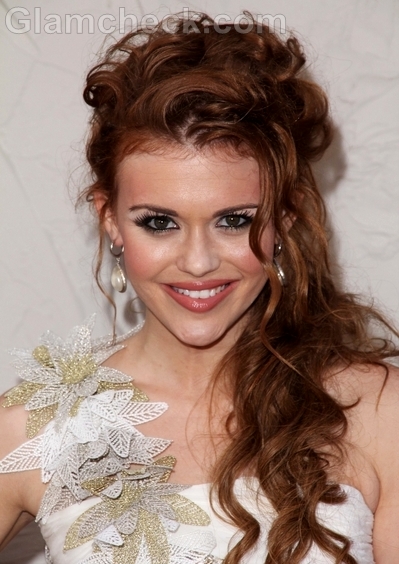 Holland Roden at Spike TV's 2011 Guys Choice Awards
The off shoulder bandage styled dress had "boa like" gold and white flowers that ran diagonally on it. The outfit "seemed" to end at the thigh from where it flew into drapes – that fell to the floor in a semi circle, covering only the back.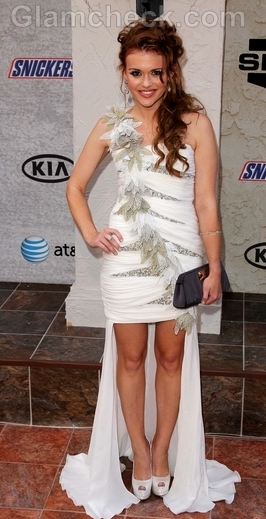 Does that sound baffling? Yes, it does, because that's the effect the dress has on us. The outfit had the scope of looking pretty and feminine, only if there was less of a floral overload and the curtain around the legs had been done away with – the latter looked as if it was stitched on as an afterthought. This gave it the look of a circular stall with half drawn drapes. Not quite what you would want to wear on the red carpet!
The intricate Grecian style ponytail up-do is pretty on its own but overkills when coupled with that dress. Loose wispy tendrils of hair fall around her face. Roden's shoulder looks too busy with flowers on one side and the hair falling in curls on the other.
The rosy blush and pinkish nude gloss looks fine but the white eye-shadow is too dramatic, it also gives the appearance of "not been blended well". It could have looked fine if applied only on the brow bones. The eyes have been rimmed with black liner, which is the best part of her makeup.
White peep toe platform pumps and a greyish mauve clutch completed her accessories. Helen chose to wear drop earrings with the attire.
Though the dress was "too much" for our senses and the hairstyle was "too done up", still the actress managed to look cute – just like the fairy princess she was probably aiming for.
Image: P R Photos