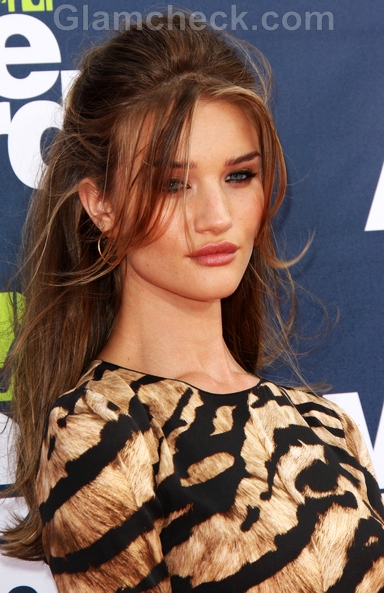 Victoria's Secret model, Rosie Hungtington-Whiteley, looked quite on the prowl; literally, with the lethal combination of a drop dead gorgeous tiger print dress and sexy looks at the 2011 MTV Movie Awards red carpet.

Rosie Huntington-Whiteley looks stunning In tiger printed dress
The stunning Dolce&Gabbana beige and black striped short dress had full sleeves and accentuated the lissom figure of the actress, who is going to star in the next Transformers movie.
Rosie wore matching strappy sandals in beige and black from Sergio Rossi. A black clutch from Salvatore Ferragamo was her other accessory. She had small golden hoops in her ears.
The actress sported a half up half down hairstyle that added to the sexy appeal. The front bangs of her hair framed the face and upped her pretty quotient. The makeup was completely in sync with the outfit as well as the sexpot look. Her eyes were done up with black liner applied on the upper eyelid as well as the lower rim. The rest of the makeup was kept natural in nude shades.
We can understand why she was chosen as a model for Victoria's Secret, if anybody had doubts then this dazzling look definitely makes it clear that when it comes to hot – Rosie holds her own.
Image: P R Photos