Though she did not strictly adhere to the dress code, singer Shingai Shoniwa got away with her choice of attire at the Keep A Child Alive Black Ball in London. The event, which was held at The Roadhouse in Chalk Farm, saw her garnering attention in the electric blue attire that she sported.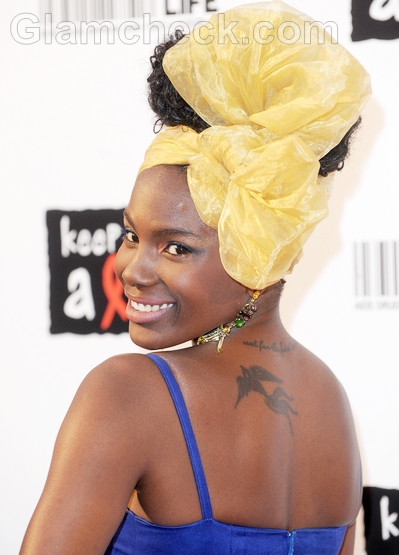 Shingai Shoniwa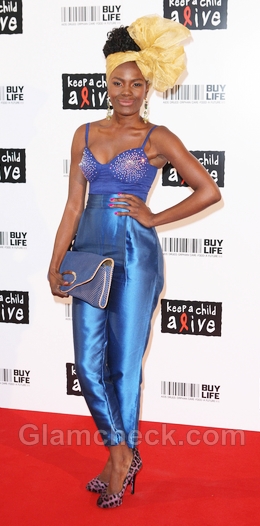 Shingai Shinowa, who is the vocalist as well as bassist for the band Noisettes, chose to wear a studded blue Basque top with a pair of high waist ankle length satin pants in the same color. What was really eye catching about the ensemble was the gold headscarf that she had tied in a bow at the side of her head. The scarf also added color to the, otherwise blue, outfit. Her hair was scrunched up at the top to accommodate the head gear.
The singer wore leopard print pumps and carried a clutch that was well coordinated with the color of her attire. She complemented the outfit with her multicolored earrings.
Shingai kept the makeup interesting by choosing to wear a color in a contrasting tone, to that of her dress, on the inner creases of her eyes – orange. This smart touch helped in playing up the look and ensured that her dress would not take over and allowed the face equal attention. Deftly applied black liner that extended to the outer corners of the eyes made the peepers look elongated. Her nails, too, sported a contrasting hue in pink.
One could not help but notice the tattoos on her back, and all in all she looked quite trendy.
Image: P R Photos