Fans of singer Alicia Keys now have a reason to rejoice because they will be able to see the star from a close distance. A wax model of Keys has just been unveiled at the famous Madame Tussaud's in New York City.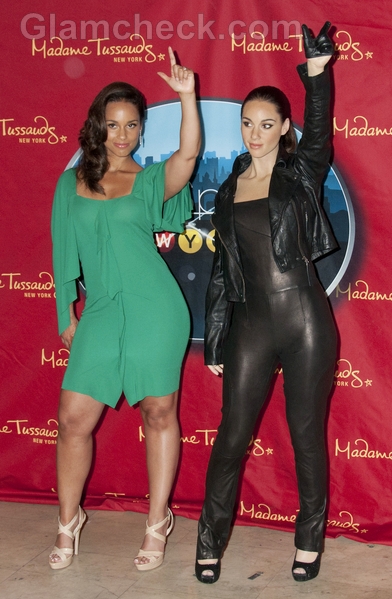 Alicia Keys wax figure at Madam Tussaud
At the launch, it was quite difficult to differentiate between the "real" and the "wax" Alicia Keys. However, it was the singer's new tan that gave her away. The wax likeness, at the moment, is dressed in biker chic – complete with leather jacket, leather pants and a tight ponytail. It is interesting to note that the wax replica also has a certain resemblance to Angelina Jolie's Lara Croft Avatar – maybe it is the hairstyle and clothes. Anyhow, Madame Tussaud's has done a great job with the replica.
The singer, i.e. the person and not the wax model, was dressed in a green outfit and wore beige strappy sandals. She had left her hair open in a side swept hairstyle. Keys, also posed in the same manner as the wax replica, and right alongside it – it was a sight indeed.
Now, we can't wait to get a look at that wax figure to get a feel of how the lovely Alicia looks in real life.
Image: P R Photos