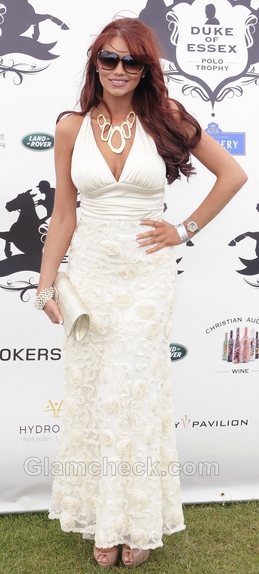 TV actress Amy Child looked quite delightful at the recently held Duke of Essex Polo Trophy in London. She wore a bride-like outfit in white and cream. The nearly floor length dress had a plunging halter neckline. The frothy skirt had floral detailing.
Child wore a chunky bracelet on her hand and an eye catching neck piece in an interesting design. Beige sandals dressed up her feet.
The Only Way is Essex actress wore a pair of brown eyeshades that had a black and beige rim. We love the shade of her rosy lipper and her rosy blush. The casually tousled hair is also doing wonders for her and so is the French manicure.
Though the length of the gown may not have been totally appropriate for the morning event, and some may find the accessories "too much" for the "bridal" dress, we feel that Amy carried it off brilliantly – and that is the only thing that matters.
Image: P R Photos