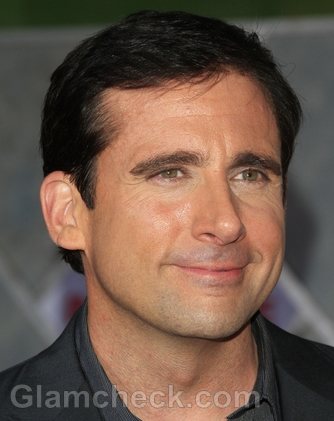 Audience members watching the The Tonight Show With Jay Leno on Friday were thrilled when Steve Carell walked in during filming and gave everyone present free tickets for his new movie Crazy, Stupid, Love.
The star of The Office walked on to the set apparently unexpectedly to the pleasant surprise of the crowd. He interrupted Leno's stand-up act to acknowledge the rising ticket prices in an ailing economy, and then invited everyone in the studio to watch his new comedy for free at a cinema nearby.
Carell said that he just happened to be driving by Leno's studio when he heard Leno griping about the economy and how bad it was. Carell went on to say that he came in not because he wanted to talk about his new movie which coincidentally was opening that very same day, but because he cared about the people in the audience and what they had to go through. He then likened himself to Oprah and said he wanted to give everyone in the room free tickets to the AMC Burbank to watch a screening of Crazy, Stupid, Love, after which he went about the elated audience handing over passes to each person.
Image: Shutterstock