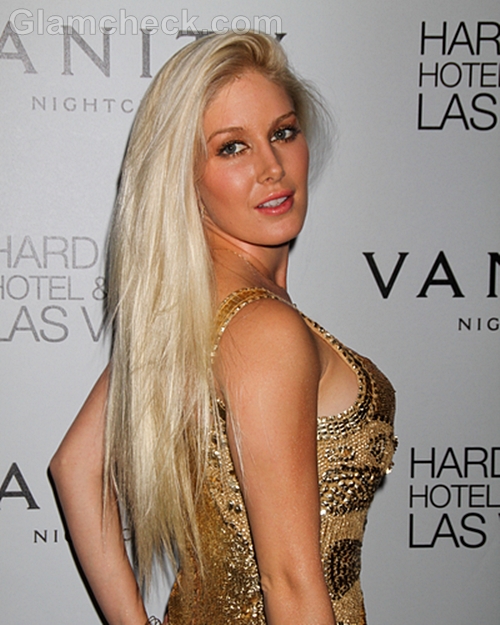 It was a weekend of birthdays in Las Vegas as another celebrity welcomed her 25th in Nevada. On September 16th, Heidi Montag celebrated her birthday at the Vanity Nightclub in the Hard Rock Hotel and Casino. She looked like a million bucks in a golden embellished mini dress that hugged her comely figure.
Her stunning face was done up in soft colors, except for her eyes which had on a couple of coats of dark mascarra and eye liner. She left her blond tresses loose, straight and silky falling down her back and over one shoulder.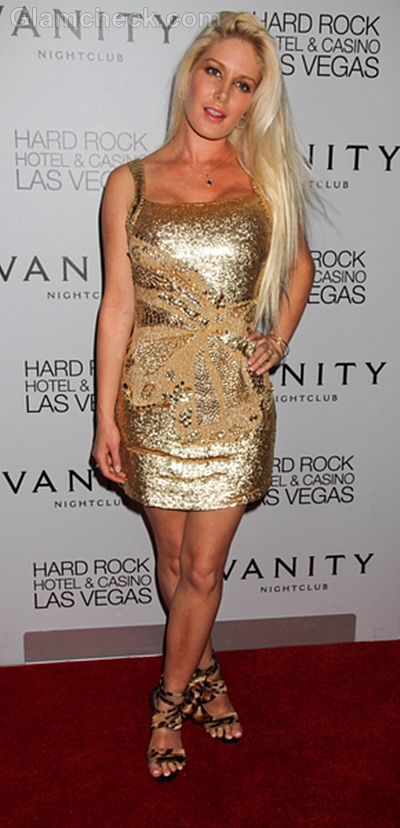 For her shoes, Heidi opted for strappy heels in a leopard print. Her other accessories were delicate – a  golden bracelet graced her left hand, while gold rings adorned the fingers of her right. She wore an elegant pedant on a very thin gold chain around her neck.
The look could be interpreted in two ways – angelic or seductive. He makeup definitely gave the impression of innocence, but the hair, dress and attitude screamed temptress.
Get the Look
When wearing silver and gold dresses, be smart like Heidi and minimize on those accessories. Let the dress do all the talking. To go all out with the glamor and really get your diva on, dab on some gold body shimmer and go with shades of gold in your face make up too. There is no toning down this look – if you're wearing gold, you want to be seen – so make the most of it on those nights you really want to stand out.
Image: P R Photos