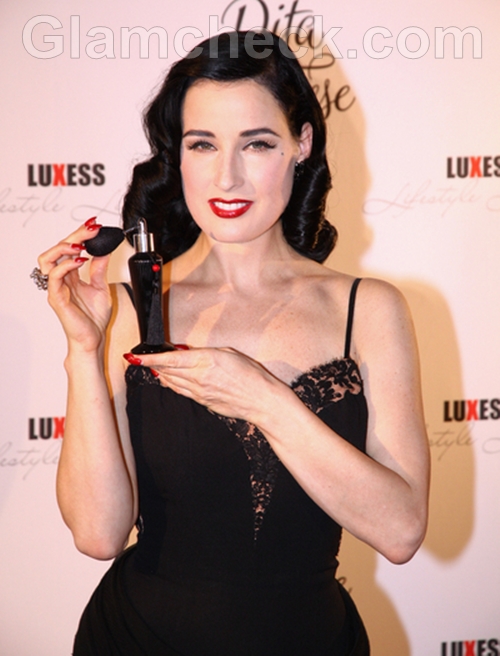 Burlesque model Dita Von Teese launched her new fragrance Femme Total at Soho House in Berlin, Germany on October 13th.
The 39-year-old kept true to her fascination for retro clothes and makeup. She wore a full-length black maxi dress with spaghetti straps and an interesting net neck line. She wore a pair of black high heels to complement the dress.
To accessorize, she wore a pair of black earrings and a huge finger on her right hand. She left her long black hair wavy as always. Her signature red lips and nails completed the look. Her style was sensuous and elegant, personifying the diva that she is.
Get the Look
Von Teese is known for her vintage dressing style and she pulls it off with an elan that nobody else can emulate. But if you are keen to give it a shot, make sure that you take care of the details. The reason Von Teese looks so great is because everything from her hair to her shoes is retro-inspired. So make sure that your clothes, shoes, accessories, nails and makeup gel well, otherwise you will look mismatched. When shopping, keep an eye out for antique or vintage jewelry for just such an occasion.
Image: P R Photos