Actress Kirsten Dunst's style is usually quite insipid and unflattering. She seems to have a knack for picking out clothes that do not suit her body type in colors that make her look invisible or washed out. But the 29-year-old is either taking lessons in dressing well or she recently hired a fashion consultant because she looked fresh, fun and fashionable at The Egyptian Theatre in Hollywood, California on November 6 as she arrived for the special screening of Melancholia as part of the AFI Fest 2011.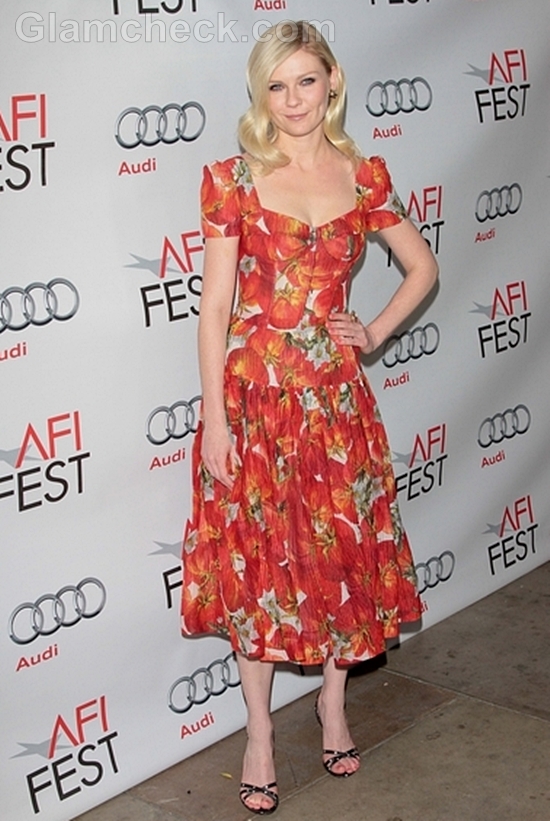 Kirsten donned a pretty orange and red tomato print dress from the Dolce & Gabbana Spring 2012 collection. The outfit really did bring to mind all things spring like a garden bursting in bloom. The skirt of the dress flowed to below her knees and swished as she walked.
These colors work really well for Kirsten, who chose to transform her mousy brown hair into blond for the evening. It was side parted and fell in gentle but obviously hair sprayed waves down the sides of her face. Her makeup was perfectly executed with soft pink lips and dark eyes. She completed the ensemble with a pair of strappy heels and black earrings.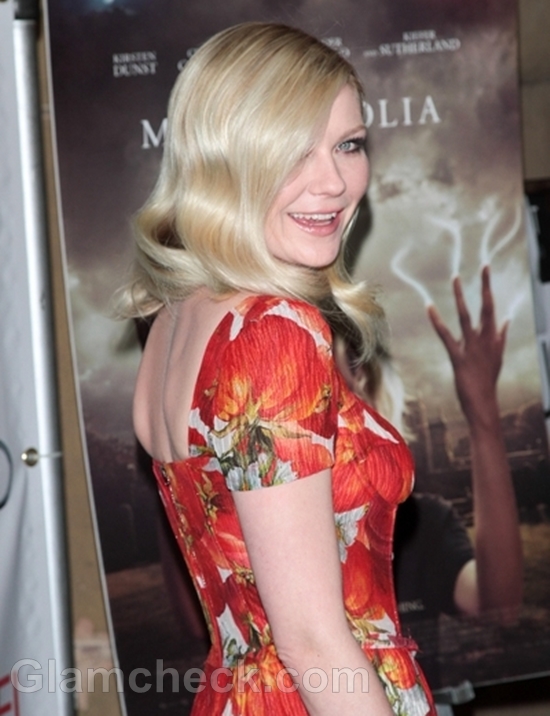 This was a great look for Kirsten. The dress made her seem like the girl next door but the hair, makeup and shoes gave her a coquettish appeal. Well done, Kirsten! Or anonymous fashion consultant in the wings. Whatever it is, we hope she continues down this stylish path and has more for us in the future.
Get The Look
A patterned dress like Kirsten's, especially one so vibrantly colorful, will be an instant hit for a daytime event like a barbecue or even a wedding. But it can also be worn to semi-formal events at night. You should let a patterned dress be the center of attention and not overwhelm it with loud shoes or jewelry. Make sure your hairdo also is simple and neat so that it does not distract the eye from the beauty of the dress.
Image: P R Photos