International brand Cadbury is the official treat sponsor for the 2012 Olympics which will be held in London. And the chocolate giants take their job pretty seriously. Their Spots vs. Stripes campaign has been going on for some time now. This £50 million venture is designed to evoke the playfulness in the folks of Britain ahead of the games. Cadbury recently had a photocall for their Spots vs. Stripes Campaign and TV presenter Christine Bleakley had quite a blast at Westfield, Stratford in London on December 20th as she popped a giant Cadbury party popper.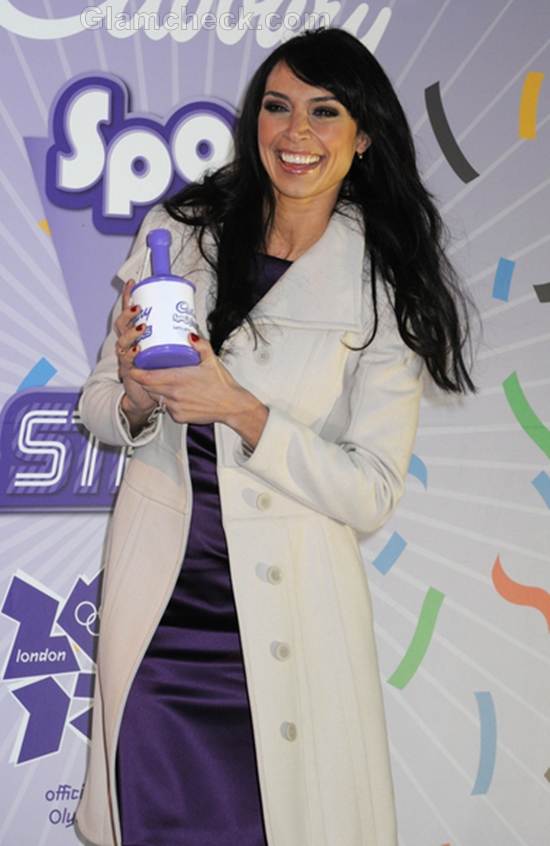 The 32-year-old was loyal to the colors of Cadbury, choosing to dress in a satin purple dress and a long white coat. Both colors were rich and luxurious and looked great on her.
She wore a couple of rings and tiny earrings that were barely visible under her long brown hair which as left loose and messy with bangs swept to the side. Her makeup had peachy hues and her eyes were done up darkly with loads of mascara and liner. The slash of red on her nails were a great contrast to the royal purple of her dress
Christine was definitely having a ball as she smiled and posed for the cameras in her simple but eye-catching outfit. What a great idea to dress up in Cadbury's colors. Who knew chocolate bars could inspire fashion?
Image: P R Photos