Some celebs proudly show off their pregnant bellies while others prefer to go low-key when their babies are on the way. Singer/actress Jessica Simpson is not remotely shy of her baby bump. The more she can show it off, the better. At the NBC Universal 2012 Winter TCA Press Tour All-Star Party which was held at the Athenaeum in Pasadena, California on January 6, the mother-to-be wore a sequined black dress that displayed her swollen belly to perfection.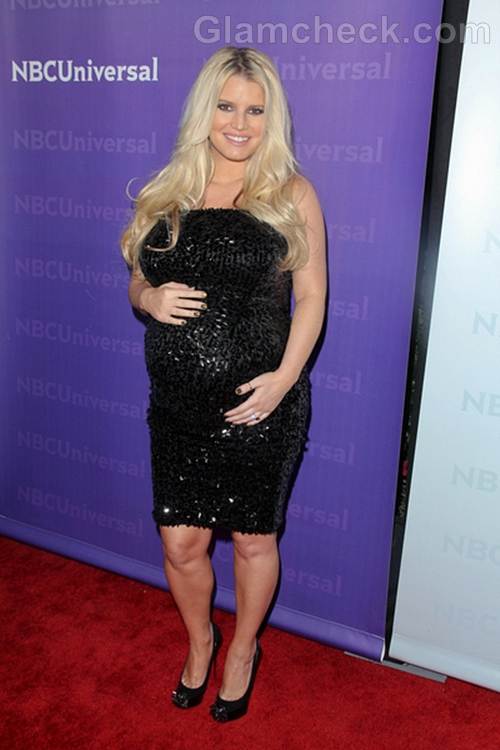 The 31-year-old, who is expecting her first baby with footballer Eric Johnson, looked lovely in the strapless, knee-length dress. Although quite simple, the sparkly glitter of the sequins upped this dress' glam factor. They also highlighted Jessica's blond tresses. The outfit was paired with glittery black pumps that perfectly matched the dress.
Jessica parted her hair casually in the center and left it loose, allowing the waves to fall down her shoulders. The softness of this hairstyle added to her natural pregnancy glow. She kept her makeup minimal with soft pink lips and dark eye makeup.
Get The Look
Just because you are pregnant is no excuse to go under the radar or hide your figure in bulky clothes, unless you want to, of course, and we respect that. But if you are generally a fashionable person who likes to dress up, your pregnancy can be an amazing opportunity to re-design your wardrobe and try out new outfits. It can be a fun challenge to look for great outfits as your waistline expands. The best place to look for pointers is to the stars. No, not up in the sky. We mean Hollywood. Pregnant celebs look like desirable bombshells right to the last semester.
Image: P R Photos