After white, black & gray was the next most popular color choice at the Oscars 2012, just like it is at every other award ceremony through the year. We have to warn you, although these celebrities chose black or dark outfits, not all of them were good. Which proves our point that just because a colour is considered safe doesn't mean it will be a success.
Anne-Sophie Bion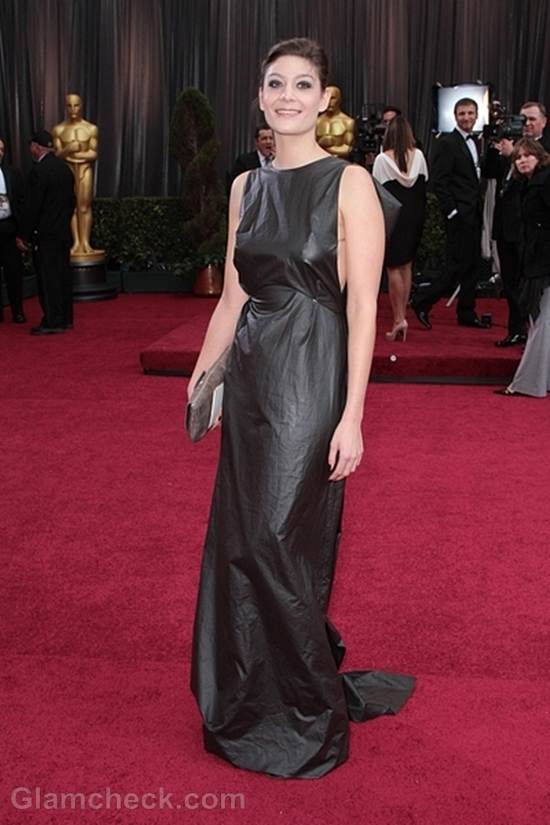 OK, we did warn you that there would be some bad outfits here. So we're getting the worst out of the way. This trash-bag inspired eco-friendly dress that the uber talented Anne-Sophie Bion wore is tasteless, formless and the last thing you should even think of wearing on the red carpet. But our point is that it's black even if it is the worst red carpet look we've seen in ages. Let's take you next to the best.
Angeline Jolie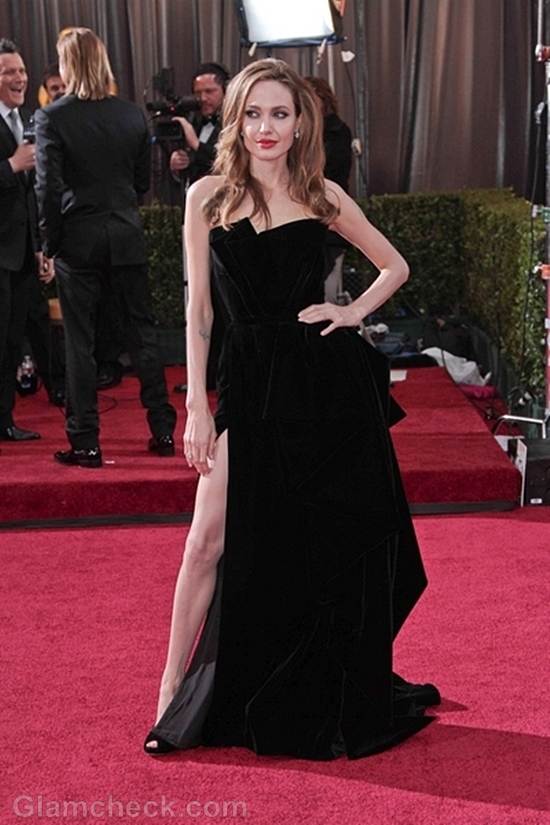 If it's a black or white red carpet color trend, you can bet your last penny that Angelina Jolie will at least be mentioned. At the 2012 Oscars, not only does she feature on the list she is also probably one of the hottest and most eclectic personalities to grace the red carpet this year. The phrase va-va-voom comes to mind, no? Angelina's off-shoulder Atelier Versace with the thigh-high split showcases her toned legs and shoulders in a stylishly sexy manner.
Busy Philipps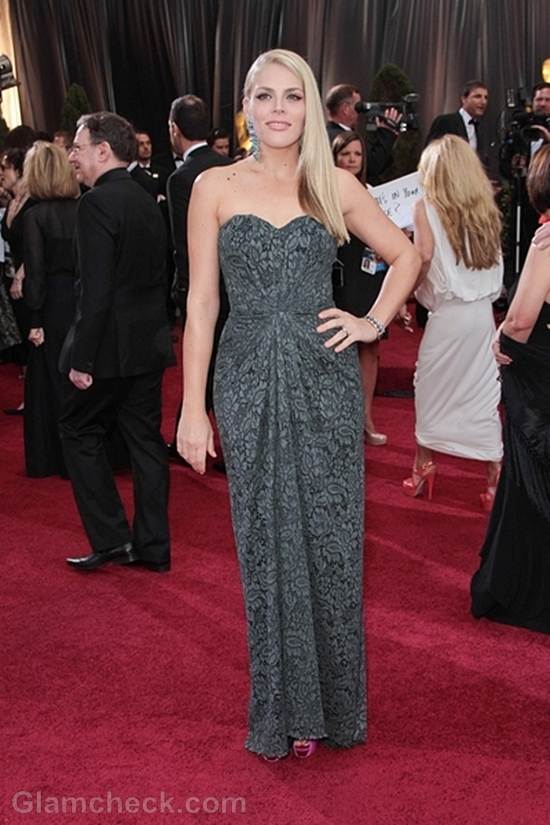 Busy Philipps donned a full-length Dolce & Gabbana coal black lace dress with gathering at the waist. She paired the off-shoulder number with hot pink heels by Brian Atwood and really cool Irene Neuwirth dangle earrings which made the dark dress pop.
Judy Greer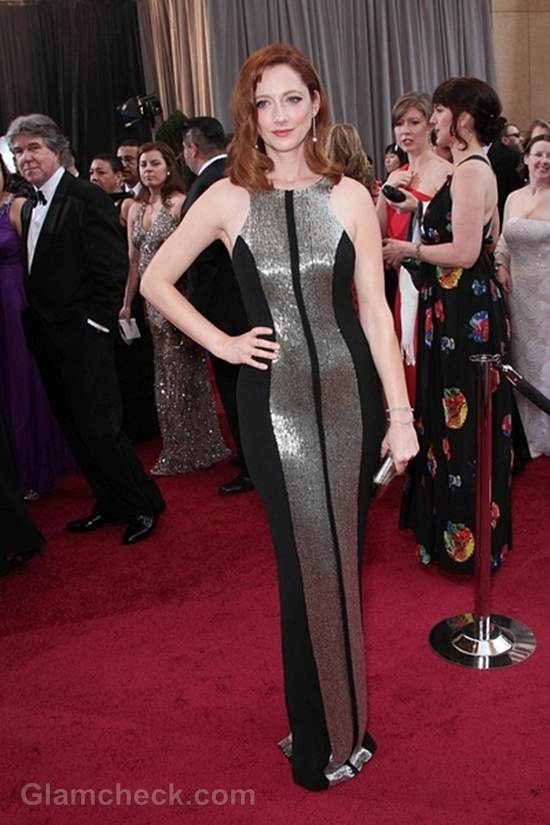 This Monique Lhuillier black evening gown had a unique twist. The racer back and high neckline gave it a sporty look. Even the silver stripes down the middle highlight the pretty redhead's athletic side. We love the clean lines and modern cut.
Jessica Chastain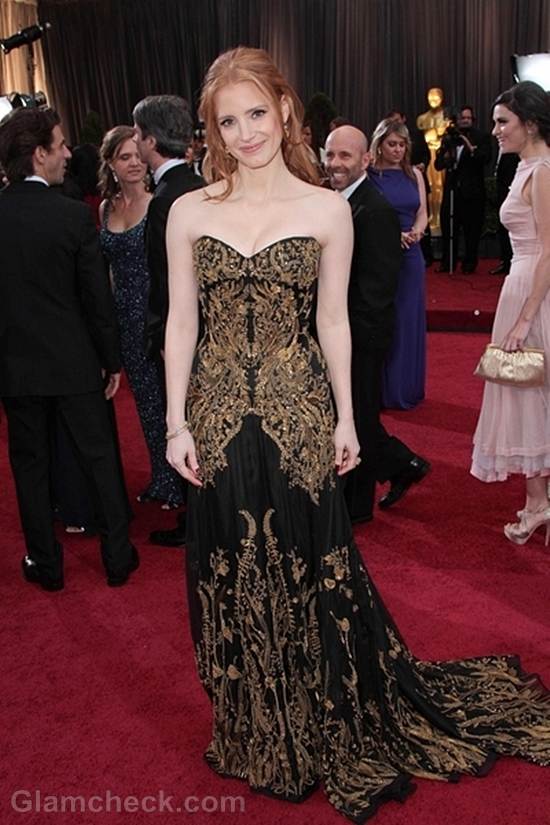 Jessica Chastain's black Alexander McQueen number was one of the most dramatic ensembles at the Oscars 2012. The corseted dress was embellished with intricate embroidery on the flowy skirt and train as well as the bodice. It has just the right amount of glitter and glam to make it suitable for the red carpet without drowning her out.
Wendi Murdoch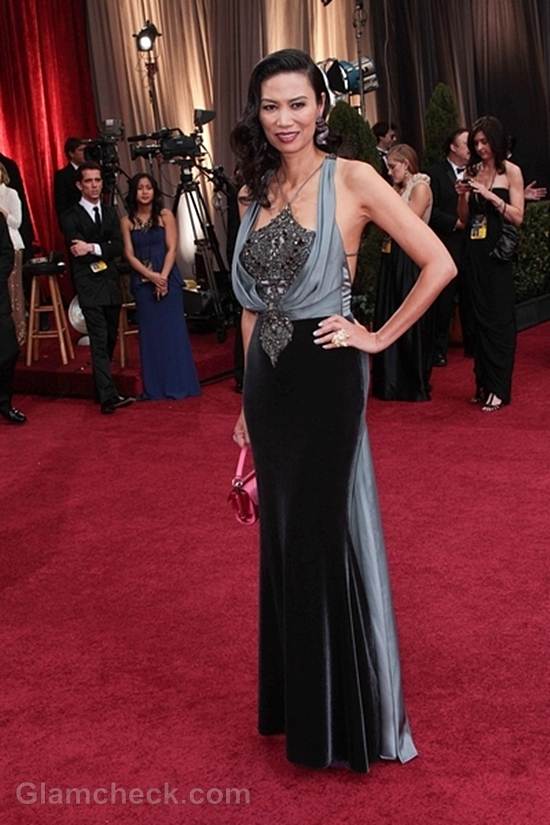 We featured Wendi Murdoch on the Oscars 2012 Worst Dressed Celebrities list because of the busy-ness of her outfit. Nevertheless, she too went with black and darker hues, even on her embellished bodice.
Tina Fey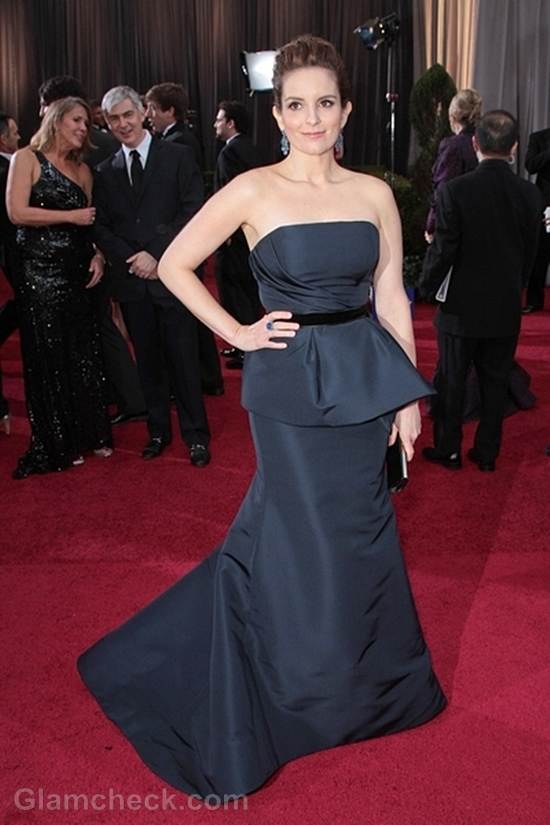 Carolina Herrera custom designed this dark peplum silhouette gown for 30 Rock's Tina Fey. The midnight blue colour looked almost black under certain light. So we can be forgiven for including it in the black dress red carpet trend.
Rose Byrne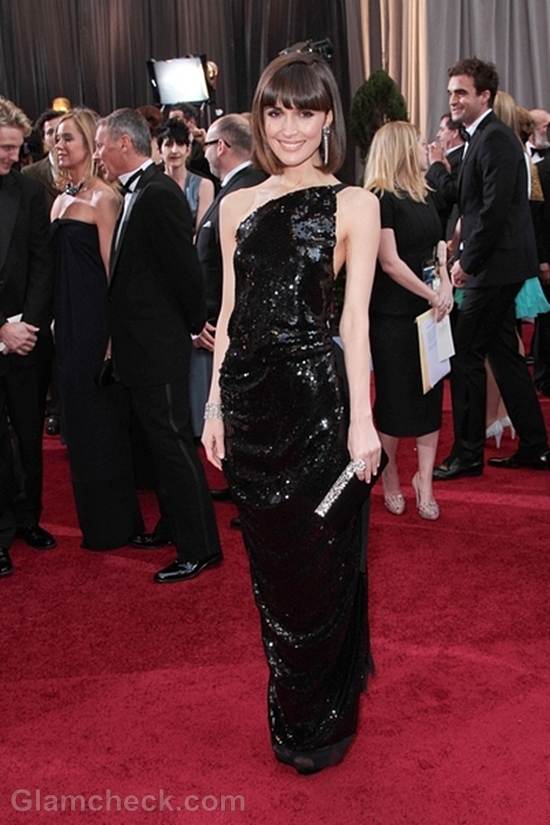 This Vivienne Westwood creation fit skinny Rose Byrne so badly that she looked like a 12-year-old messing around with her mother's clothes. However, that doesn't take away from the fact that the luxurious black fabric would have been a sure-fire success if it hugged her figure rather than hung on her.
Dawn Hudson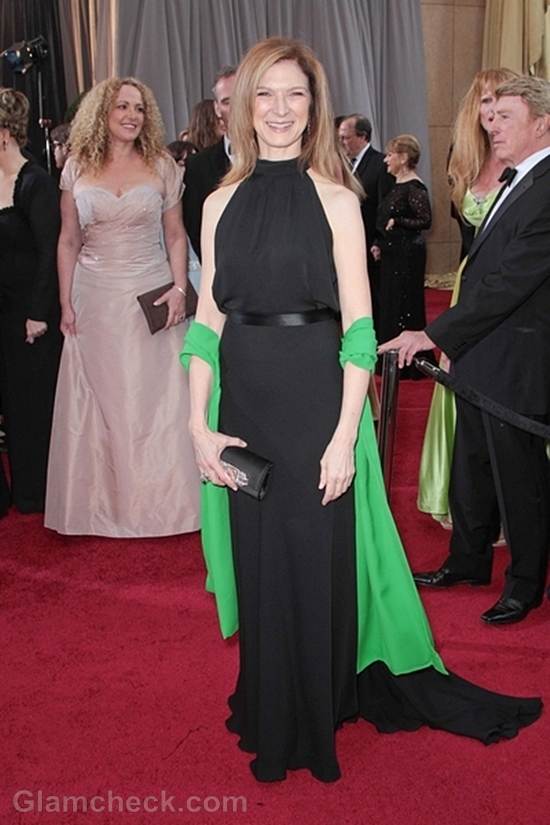 Bar Dawn Hudson's bright green stole and you have a halfway decent black dress that could be accessorized so that it made more of an impression on the red carpet.
After looking at these ensembles in darker shades, you have to agree that the white gowns were better suited for the red carpet. Will these not-so-inspiring black gowns make you pick white this season?
Image: P R Photos