French actress Sofia Manousha made quite the impression as she arrived for the premiere of Feu by Christian Louboutin at Le Crazy Horse in Paris, France on March 12.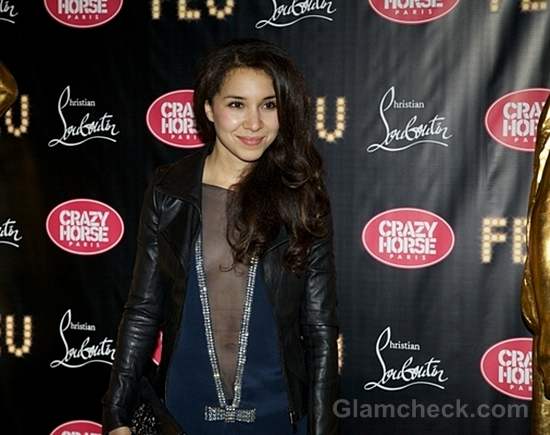 The petite brunette wore a blue mini dress with a pleated skirt which showed off her sassy side. The neckline was sheer black fabric, plunging in a deep .. deep V right down her navel. The V featured silver sequins on the border, ending in sequin-bow detailing where the sheer fabric ends.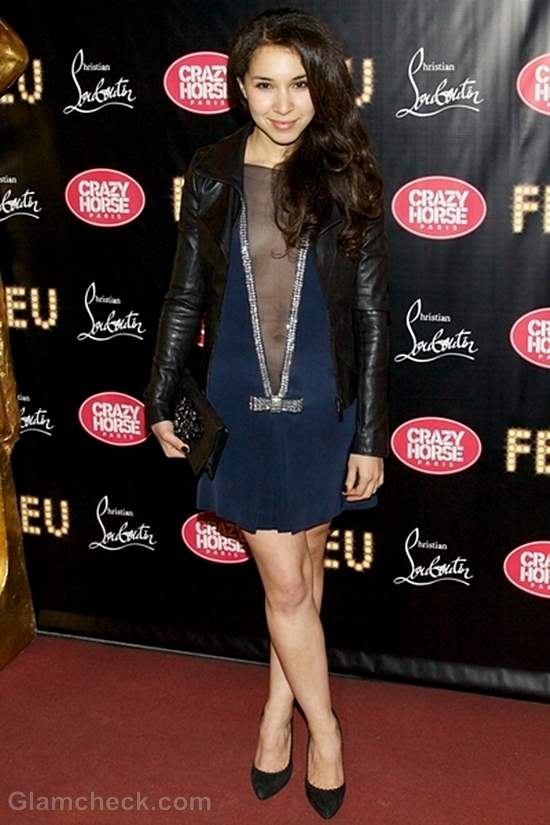 Although this was a daring design, it was in no way vulgar or over-exposed. In fact, she looked quite elegant. She accessorized the uber feminine dress with a black leather jacket, black pumps and a black clutch purse.
Her pretty features were highlighted by fresh natural makeup with just the slightest tinge of color on her cheeks and lips while her her wavy tresses were simply brushed over her shoulder, hanging down in a mass of natural curls that softened her ensemble and heightened her femininity.
Get the Look
We've seen quite a few leading ladies wear sheer paneled dresses this last week. A few of them didn't wear quite the right bra to properly accentuate their assets. Sofia's well-structured form proves that her selection of underwear was more judicious. Whenever your breasts are going to be on display, whether through a deep V neckline or a low-cut top, the right bra will almost completely save your look. Take your daring dress to the lingerie store with you and try on bras with it so that you ensure that you have made the right choice.
Image: P R Photos