You can never say that music awards shows are boring. If you're a genuine music lover, then it's thrilling to wait with bated breath while the winners are announced, plus you get to watch some of the singers live on stage. If you're a fashion lover, you have a field day with the mind-blowing outfits that the ladies turn up in. You don't like music or fashion, you say? Well, how about a bit of a laugh and a puzzle? We guarantee that every awards show gives you that too. Even before the show begins, as the stars walk down the red carpet, you see some ensembles that are beyond comprehension and which elicit either a burst of laughter or a frown of bewilderment.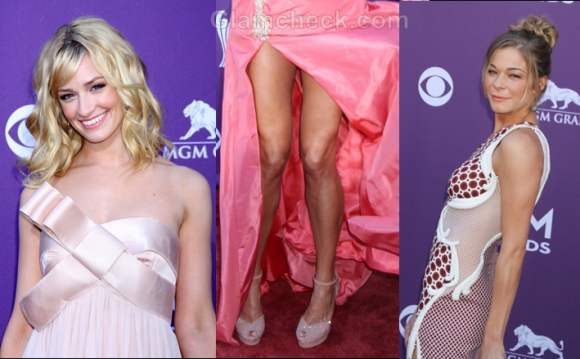 Here are some prime examples from the 47th Annual Academy of Country Music Awards held at the MGM Grand Garden Arena in Las Vegas, Nevada on April 1.
Sara Evans
You know the dress Angelina Jolie wore to the Oscars this year? The one with the thigh-high slit that the fashion critics loved and hated? Of course, you do. Who can forget that flash of leg from the normally conservative Jolie. Although the event has long passed, the talk behind the show of skin is still quite fresh. Not long after, Rihanna too sported a sexy ensemble with strikingly similar slit at a high profile event. All this hoopla over a slit may be the reason Sara Evans chose to wear a bizarre dress with a suspiciously identical slit to the Country Music Awards this year.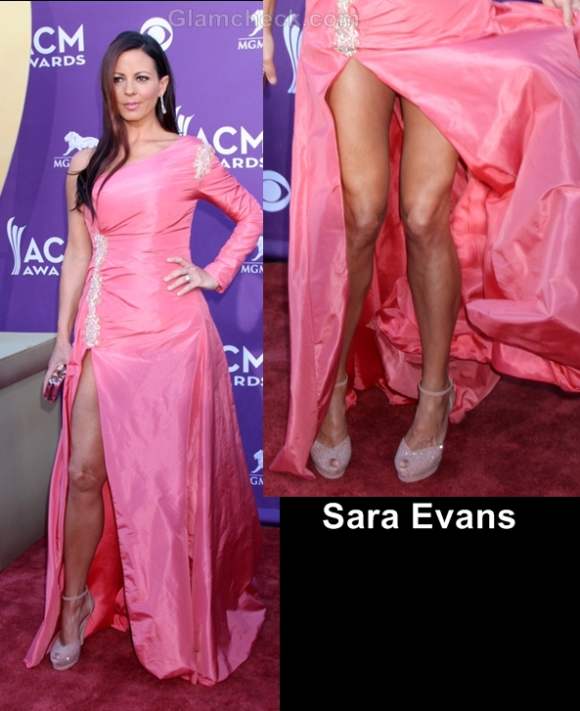 Sara donned a bubblegum pink ball gown made of a very funny material that resembled shiny plastic. The confusing design featured a full sleeve on the right hand with silver detailing on the shoulder, a halter strap on the otherwise-bare left shoulder and silver detailing on the hip just above the slit. She posed with her leg jutted out at an awkward angle the same way that Jolie did. The fabric of the dress is rumpled, but not in a cool or edgy way. We love Sara's nude pink ankle-strap pumps though. It's a pity her good fashion sense with the shoes didn't extend to the rest of her frumpy outfit.
Beth Behrs
Beth Behrs is so cute, she can be forgiven almost anything. So when we feature her dress in our worst dressed list, it's out of love and a hope that she'll finally realize what a blunder this fashion choice was for the red carpet.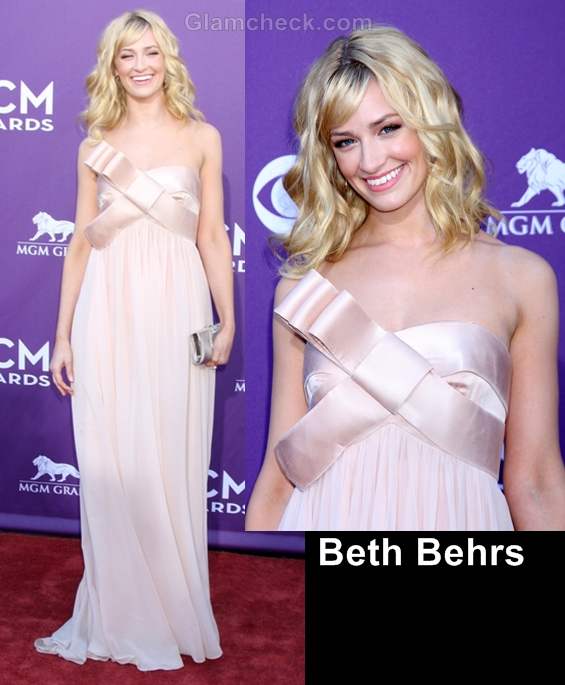 Beth chose an ensemble in a very 'in' shade – a gorgeous nude pink that makes you want to reach out and touch it. What ruins her look is the outfit itself – a shapeless, strapless, full-length gown with an ugly, confusingly-shaped bow on the bodice. That's not ordinary bow – it's humongous and almost drowns out her petite frame.
From the neck up though, she is flawless. Her makeup has just the right amount of color to prevent her from looking washed out and her glorious blonde curls are set perfectly. Take a look at her very cute metallic pink clutch purse too – simply gorgeous!
LeeAnn Rimes
Singer LeeAnn Rimes has lost a lot of weight these last few months. She's been doing everything possible to show off her athletic figure, the most recent being her memorable parading on the beach in a string of tiny bikinis as she celebrated her 29th birthday. She's apparently still in that mood as she slips into this Baroque-inspired, figure-hugging creation by Stella McCartney.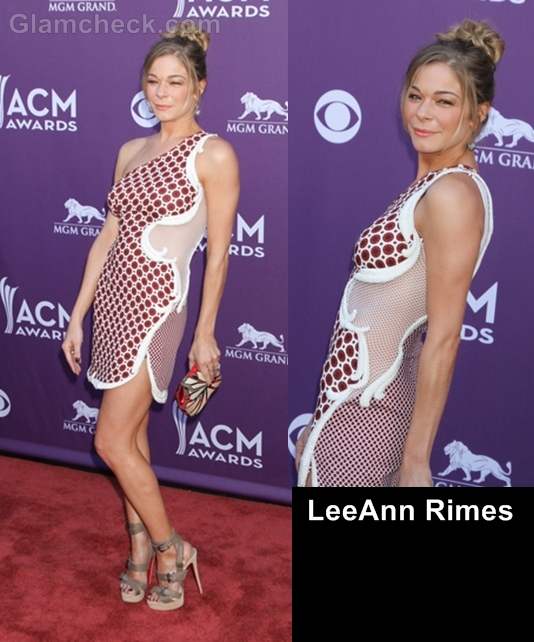 All mesh and swirls, her one-shoulder red and white dress somehow does no justice to her hot bod or her pretty face. It does, however, draw the eye. Do you see how when you look at the dress you just keep looking and looking and looking… That print is hypnotizing. Yes, we know this outfit and other very similar ones from the collection have been making waves on the red carpet, but just because something is in fashion does not mean it looks good on every body. We have one word for this ensemble on LeeAnn – nah. We like the funky clutch purse though.
Paige Duke
Paige Duke's dress makes her look like Big Bird's cousin. There! We said it. We have nothing against frilly skirts, especially at an awards show for country music where it's all but expected, but pick your frills with care.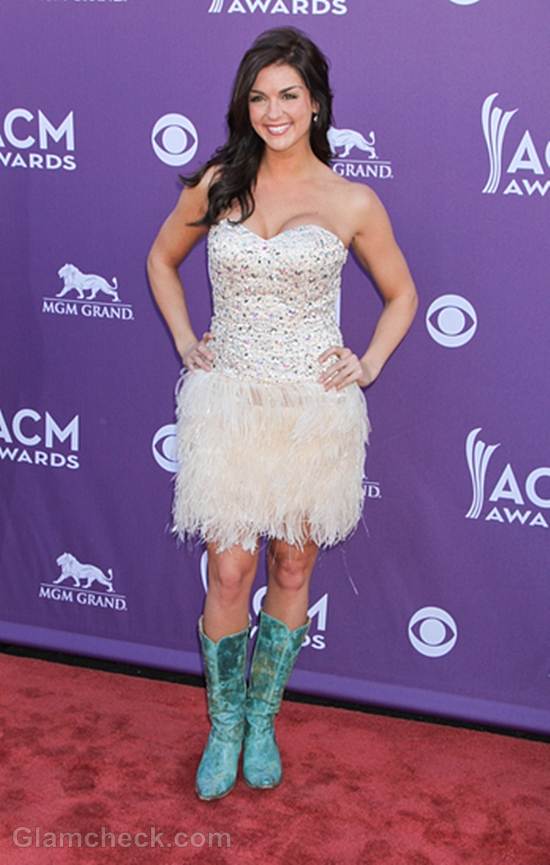 Paige wore a strapless pale pink dress with an embellished bodice and a knee-length frilly skirt that was tassels from waist to knee. That's not the worst of it though. She completed her ensemble with…erm… funky(?) turquoise boots. Color blocking gone wrong or contrasting mismatch. Call it what you will, it all adds up to the same thing – this look does not work. 'X' marks the spot… for disaster on the red carpet.
Image: P R Photos, Shutterstock