No one was expecting Katy Perry to perform at the premiere of her movie "Katy Perry: A Part of Me" at Graumans Chinese Theater in Los Angeles, California on June 26. But perform she did to the delight of her fans, bursting onstage in an outfit that was patent Katy.
What she wore:
Film reel and popcorn themed costume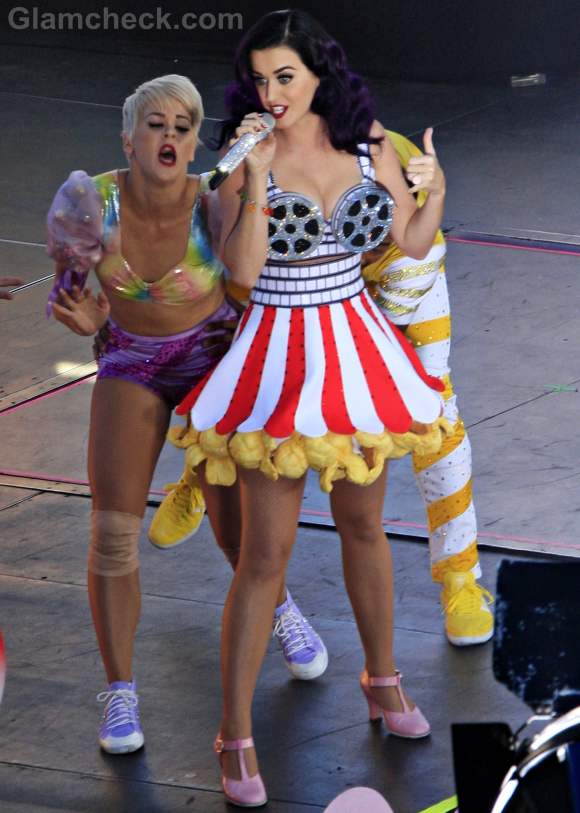 Katy donned a bra top that looked like a reel of film, pairing it with a short, flouncy red and white skirt which looked a tub of upturned movie popcorn. The hemline was accentuated with yellow gobs that detailed the popcorn. She accessorized her fun, zany outfit with pink, ankle-strap heels and an orange charm bracelet.
Hair and Makeup:
Two-toned hair; red lips
Her lips and hair were the same as they were when she arrived at the venue – purple and brown curly locks with deep red lips and dark eyes.
No one can pull this off like Katy can. We've seen performers try to emulate Katy's onstage dressing style, but they lack her authenticity and just end up looking stupid. With Katy it is, as the title of her docu-movie states, a part of her.
Image: Helga Esteb / Shutterstock.com