Ski racer Lindsey Vonn is a contender for Athlete of the Year at the 2012 ESPY Awards, and the beauty came to the event dressed to win. As she arrived at the Nokia Theatre L.A. Live on July 11, she looked more like a model than an athlete.
What she wore:
Floor-sweeping nude gown by Marciano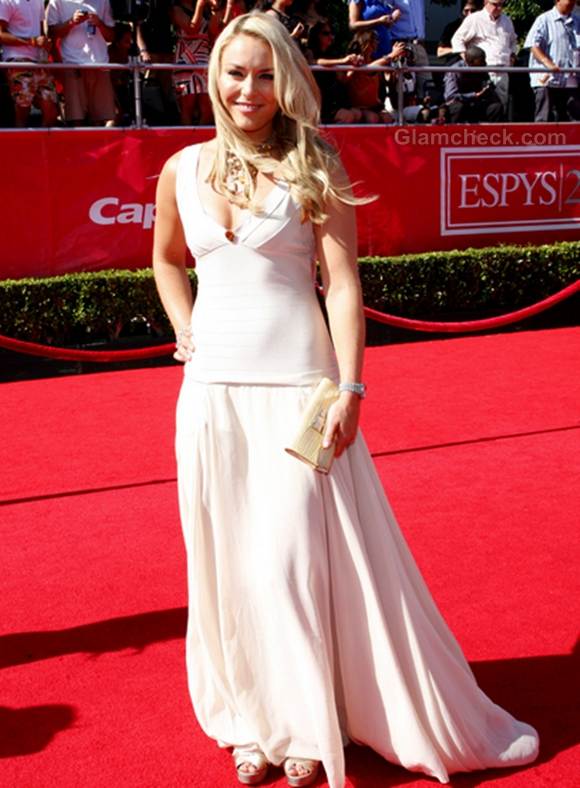 The color of the gown is one of the prettiest nude pinks we've ever seen. The bodice consisted of a fitted bodice with a low-cut neckline which culminated in a red jewel between her breasts. The skirt of the full-length number flowed to the floor, looking as light as air and reminding you of a summery breeze.
Staying with the nude theme, she slipped into open-toed nude nude heels and carried a nude clutch purse. A few sparkly trinkets by Simon G added glamour, but the piece de resistance of her jewellery was undoubtedly the multi-stoned dangle neckpiece by Atelier Swarovski. Stupendous!
Hair and Makeup:
Wavy hair; dark eyes
Lindsey borrowed from a makeup palette that was very close to the pale color of her dress, so the eventual result was a healthy natural flush on her cheeks and a yummy nude gloss on her lips. Her green eyes lined with kohl and tumbling wavy blonde hair completed her red carpet look.
Image: P R Photos