We love following singer Miley Cyrus on the red carpet. She tends to prefer over the top ensembles, taking chances and experimenting with her looks as anyone her age would, thus making for a rather interesting progression of outfits from one event to the next. However, at the 21st Annual Elton John AIDS Foundation Academy Awards Viewing Party held at the Pacific Design Center, West Hollywood, California on February 24, the 20-year-old opted for a look that was quite unlike her usual wardrobe but a winner nonetheless.
What she wore:
Backless white dress by Azzaro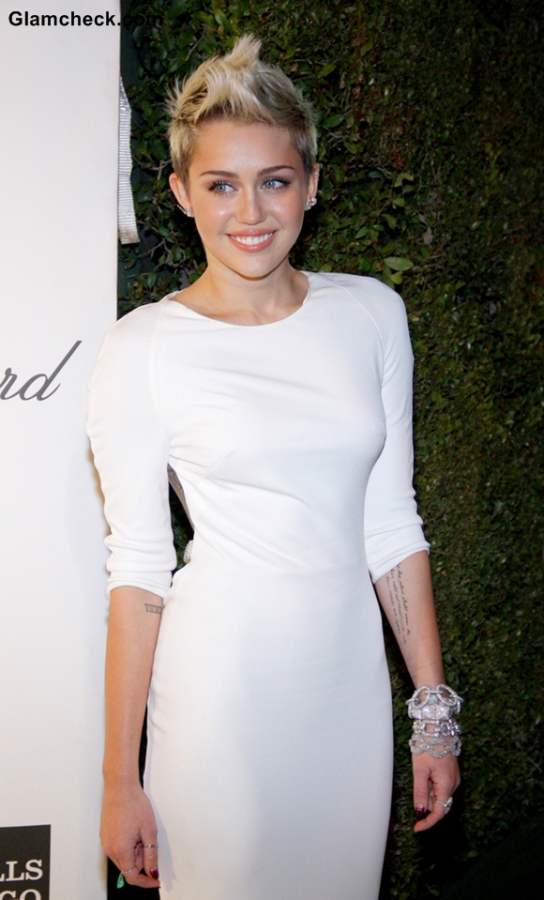 Miley Cyrus 2013 hairstyle – pixie
Miley wowed in a high-necked, floor-length, three-fourth sleeved plain white dress which draped elegantly over her Pilates-toned figure. The backline of the dress fell dangerously low. It featured a sequin embellished strap at the neck and another longer one curving provocatively on her lower back.
The dress is fabulous! Miley was the picture of youthful sophistication and we're hoping she'll show off more of this classy side at future events. She accessorized with pumps by Givenchy and a multitude of diamond-silver bracelets on her left hand, diamond stud earrings and a cocktail ring by Lorraine Schwartz. Obviously, she's keen on keeping a bit of her rocker chic look intact!
Hair and makeup:
Spiked pixie; glowing makeup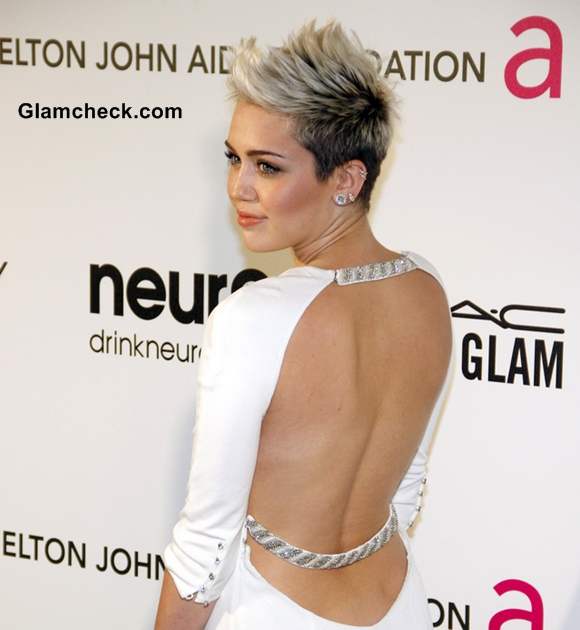 Miley Cyrus pixie hairstyle 2013
The star's famous pixie haircut was spiked messily for the evening. It gave her a rather impish look which would have bordered on child-like if her face had not been infused with such a womanly glow. Minimal color on her lips and defined eyes completed her look.
P R Photos