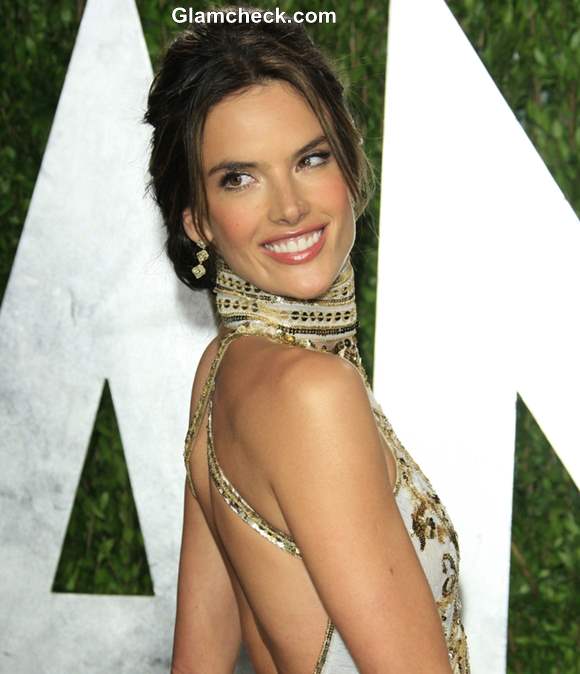 Victoria's Secret's Alessandra Ambrosio showed off some skin at the Vanity Fair Oscar Party at Sunset Tower in West Hollywood, California on February 24.
What she wore:
Beaded gold evening gown by Zuhair Murad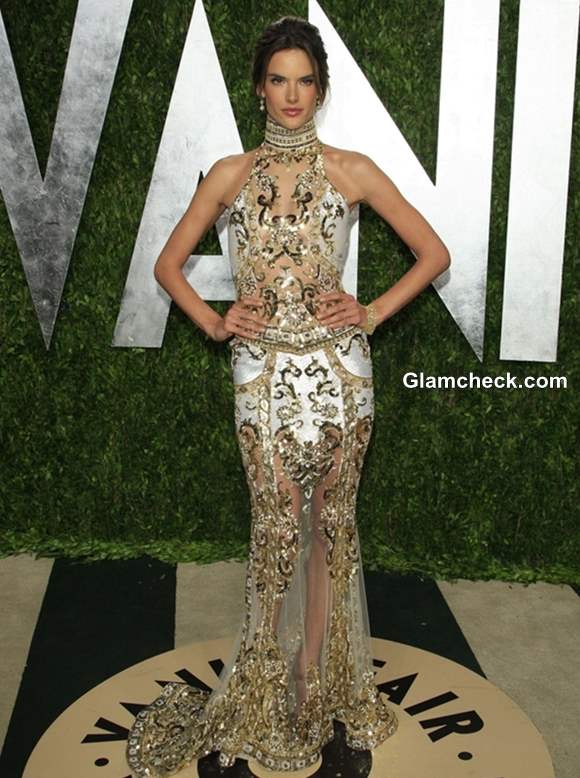 Alessandra Ambrosio's gown at the Vanity Fair Oscar Party 2013
Alessandra sparkled in a high-necked, floor-sweeping evening gown that was elaborately embellished with gold sequins and beads. The bodice offered only the barest of cover over her breasts but was otherwise sheer. Thin straps led from the bust to the neckline on the back, leaving the skin from shoulders to lower back bare.  The skirt was sheer too from the thigh down, culminating in a rich texture along the trailing hemline. A gold bracelet and delicate drop earrings completed her look.
This is a luxurious, over-the-top ensemble that can only be pulled off by someone who is used to being in the limelight and who knows how to work it for the camera. Anyone with lesser star power would have seemed like they were trying too hard. Alessandra obviously over-qualifies for the former category, lending her own grace and rarity to the gorgeous outfit in turn.
Hair and makeup:
Braided do; minimal makeup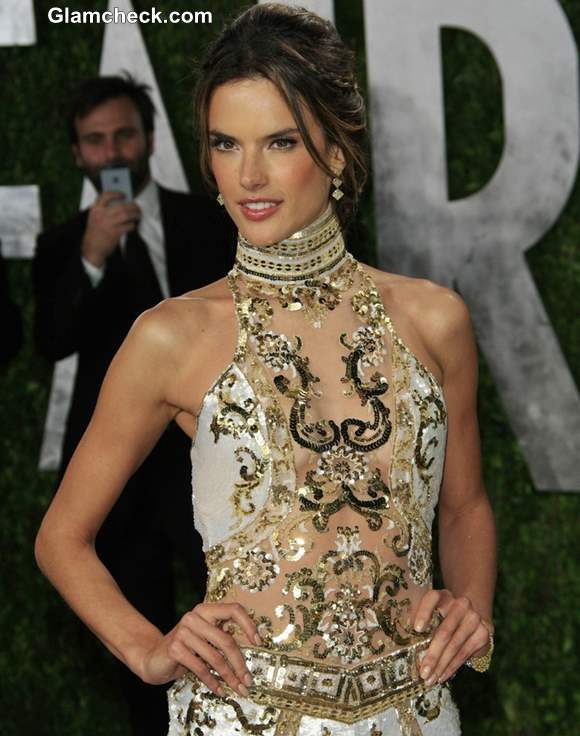 Alessandra Ambrosio at the Vanity Fair Oscar Party 2013
Her hairstyle borrowed partly from the milkmaid braided do with two thin plaits stemming from the center parting on her crown and leading back into an updo which also consisted of a braided texture. Grown-out bangs settled on the sides of her face to form a delicate frame.
The dress was far too ornate to go with anything but the barest makeup. Her cheeks and lips sported a tinge of natural color while a gold liner added a delicate touch of glamour.
Shutterstock