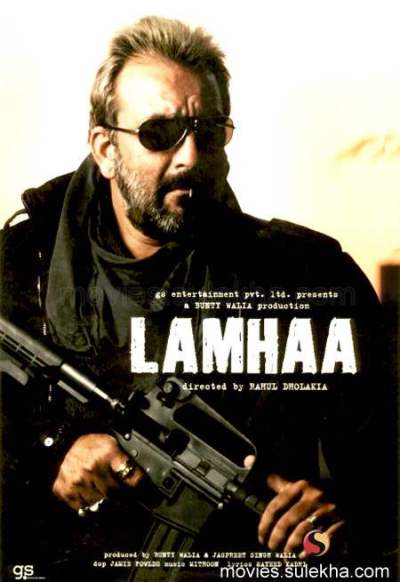 Movie Name: Lamhaa
Release Date: 16/07/2007
Director: Rahul Dholakia
Cast: Sanjay Dutt, Shernaz Patel, Anupam Kher, Kunal Kapoor, Bipasha Basu, Yashpal Sharma, Aman Verma, Mahesh Manjrekar,  Vishwajeet Pradhan, Rajesh Khera, Murli Sharma, Vipin Sharma, Yuri Suri, Ehsaan Khan ,Jyoti Dogra, Denzil Smith.
Genre: Action, War
Language: Hindi
Synopsis:
Lamhaa is all about how Kashmir once a paradise turned into a nightmare. There is this business run by anonymous people generating big bucks in dollars.  The armed intelligence forces smell the rat that there is a secret drive by these antisocial elements to paralyze Kashmir.
Vikram (Sanjay Dutt) is sent on a secret mission as Gul Jehangir. While Haji, a nationalist leader escapes a blast on the same day Vikram lands Kashmir. Suspecting a connection between the mission and the blast, Vikram joins hands with Aziza (Bipasha Basu) who is a protégé of Haji (Anupam Kher) and is honest, aggressive & young. The movie takes you through dramatic, action, betrayal, dangerous and deception situations between the two of them while they hunt for the truth.
The ultimate question that crops up is whether peace prevails and if the common enjoys the freedom that was taken away because of the battle amongst the bureaucrats, politicians & militants.
.