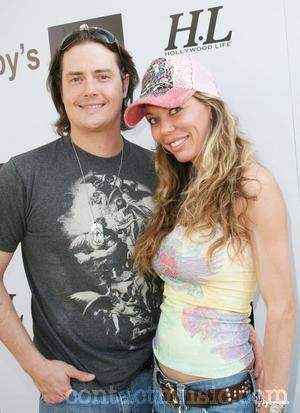 According to Radaronline, Melissa Cunningham wife of troubled star Jeremy London suffered brain haemorrhage and was immediately rushed to a hospital in Los Angeles.
The star who joined her husband at Dr. Drew Pinsky's Pasadena Recovery Centre for a prescription pill habit as a part of a new reality show for VH1 called 'Celebrity Rehab'. London who was already filming for the series was in for assorted substance abuse. Reports say that the couple married in 2006 and have a kid are in the process of a divorce and that London is already back at the rehab knowing his wife's condition.
London held attention due to a happening in which he claimed to be forced by a group of men to go on a 12-hour methamphetamine and ecstasy binge at gun point. Other participants on the show being Tiger Woods ex Mistress Rachel Uchite, ex model Janice Dickinson, Jason Wahler of 'The Hills' fame and one upon a time teen idol Leif Garrett.
The 'Celebrity Rehab ' will premiere on VH1 next month and will see this sorry lot through 21 continuous days of detoxification on whichVH1 invested a lot of time and resources to find these addicted stars.
.