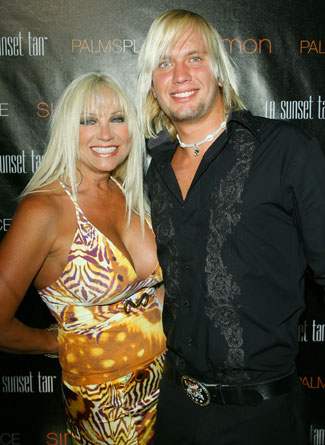 Hulk Hogan's ex wife Linda Hogan, young at age 50, is engaged to be married to Charlie Hill aged 21.
As reported by Limelife, Charlie, 21, referred to as boy-toy by the former, will soon be step dad to Linda's 22 year old daughter Brooke Hogan and 21 year old son Nick Hogan, who was a former friend to Nick before his relationship with his mom. Commenting on the relationship Brooke told E!News that although her mother's relationship to Nick who is a grade below her freaks her out, she is still trying to be supportive for the sake of her mother
Hulk Hogan on the other hand proposed to Jennifer McDaniel 36, who given Hogan's type is another platinum Blonde. Talking to FOX news Hogan said that unlike Linda, Jennifer is a devout catholic and refrains from alcohol and drugs and would make a perfect life partner unlike the negative relationship he shared with Linda.
Linda is to marry Charlie on her newly purchased yacht she christened 'Alimony'. Beat that!
.