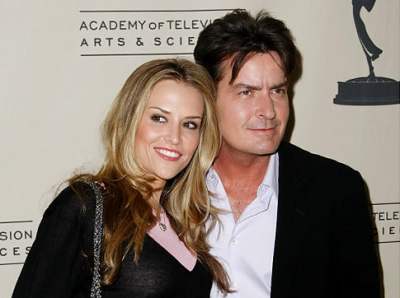 According to the Associated Press, Charlie Sheen of 'Two and a Half Men' fame pleaded guilty to assaulting his wife Brooke Sheen in an argument on Christmas day when she proposed a divorce.
The more serious charges of felony menacing and criminal mischief were dropped in exchange to Sheen pleading guilty to misdemeanor assault. The actor was sentenced to a 30days in jail at the Pitkin County Courthouse. As revealed by his attorney Yale Galanter Sheen as per the sentence is required to serve a term of 30 days at Rehab, 30 days on probation and a total of 36 hrs on anger management.
The Sheen couple earlier were working on reconciliation and were trying to make the marriage work but according to Brooke things were still not working out and when she proposed divorce Charlie lashed out at her treating to kill her, straggling her neck with one hand and holding a knife in the other. Charlie refused to have threatened Brooke, saying that they just had a heated argument over the divorce as he dint want to go through another painful divorce and custody claims as he had already undergone with ex wife Denise Richards.
The actor has faced charges before for attacking an ex- girlfriend as well as his father Martin Sheen, turned him in for violating Parole after an overdose of cocaine.