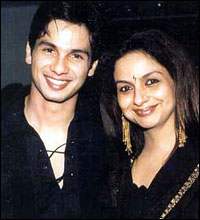 After a long period of estrangement finally Shahid has patched up things with his mother. The bitter separation between the actor's parents led him to drift away from his mother. Shahid was known to take his father's side evident in the fact that he decided to do his father's directorial debut film 'Mausam' still in production, refusing his mother Neelima Azim's more anticipated
directorial debut.
But finally the star has grown up, as he has not only patched up things with his mother but also has decided to star in her film. The film will also see along with Chandan Sanyal, buddy of 'Kaminey' fame, it may also mark the reunion with old flame, Bhavna Pani who with
share the screen for the first time with Shahid.
With reconciliation in the air, you never know! Azim though refused to comment about the reunion but did say that her son would grace the festival of Indian classical dancing where she is to perform after a break of 12 years to be held in Kolkata.