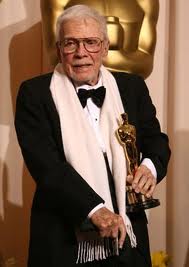 "The production designer of award winning films lilke 'Fiddler on the roof' and 'North by Northwest', Robert Boyle died on Monday in Los Angeles at the age of 100.
He had received the honorary Oscar two years back and along with it an awesome career in the industry for more than 60 years. His Oscar nominated works are still acclaimed in the industry, some being, The Birds and Saboteur.
Robert died on Sunday after being admitted to the Cedars-Sinai Medical Center two das prior to it. He was active even till the last moment of his life giving a lecture to the students at the American Film Institute.
His family comprised of two daughters and thier children. Robert Boyle in collaboration with several other directors has given several hits and he would have turned 101 on 10 October 2010.