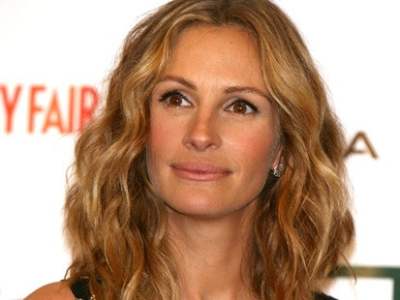 Julia Roberts who is the cover girl for Elle magazines September 2010 issue talks about everything from Botox, her  forthcoming film, Hinduism, reincarnation to family and friends.
Talking about Botox and plastic surgery, the American Sweetheart says that it's unfortunate to be living in a panic stricken dysmorphic society and wonders how women don't want to see themselves when they grow old?  She wants her children to see her true self rather that a surgically enhanced expressionless face and wants her face to tell her story as she believes each face does.
About Hinduism she says that she is a practicing Hindu and that the entire Roberts and Moder family visits the temple regularly for praise and worship. Julia also talks about her film 'Eat Pray Love' which was partly short in India and her visit to Swami Dharmdev's Hari Mandir Ashram, in Pataudi located on the outskirts of New Delhi. She also talked about how lucky she was to be spoilt by family and friends and if she was reincarnated, she would just want to be a simple quite and supporting person.
Talking about her husband Danny Moder she said that their love was so great that it burst into three pieces in the form of their adorable children.