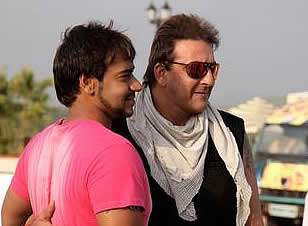 Sanjay Dutt shifted the dates of the release of his new movie Knockout as it was apparently clashing with the dates of his best buddy Ajay Devgn's release Aakrosh.
The dates of release of the movies was 1st October 2010. When Sanjay came to know about this, he spoke to the director of the movie regarding the change in the dates of release in order to avoid the clash. Director of Knockout, Sohail Maklai, is also a good friend of Ajay.
The discussions were carried out and within minutes it was decided that Sanjay's movie will release apparently on 8th or 15th of October. Sanjay has also helped Ajay with the movie All The Best and even now he was there for his friend.
Reports say that director Sohail has confirmed the news and is all set to have more promotional plans and the final editing of the film. All that happens, happens for the best.