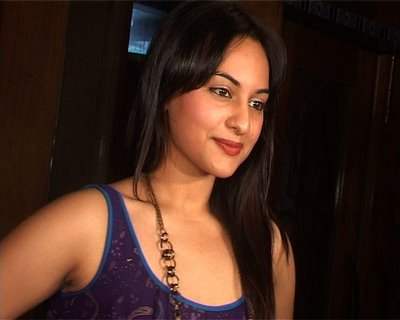 Salman Khan's new film 'Dabangg' sees the launch of Shatrughan Sinha's daughter Sonakshi Sinha.
Sonakshi plays the role of a simple village girl, who forms Salman's love interest in the film, playing a major role in turning his life around. Talking to the TOI, Sonakshi reveals that Salman Khan promised her that if she shaped up, he would give her big break. So after shedding 30 kilos over the course of 2 years, she was ready, and sure enough Salu kept his promise, and now she is all set to debut with the film 'Dabangg', with none other but the star himself.
The 23 year old says she would have preferred a more glamorous launch but starring beside Salman is a fair deal and is very excited, she knows things dint work really well for her brother Luv, but she is very confident that it will work for her.
When questioned about why she dint star in the item number in the film instead of Mallika Khan, rated one of the raunchiest this season, lady Sinha said that she wasn't really cut out for item numbers and will not been seen in any in the future either, given she doesn't need to work for money, as she is pretty well settled already and will be very selective where her choice of film's is concerned.
She also spoke about the pros and cons of being a star descendent saying that the good part being that the industry is very accessible and on the other hand peoples expectation's sore high.