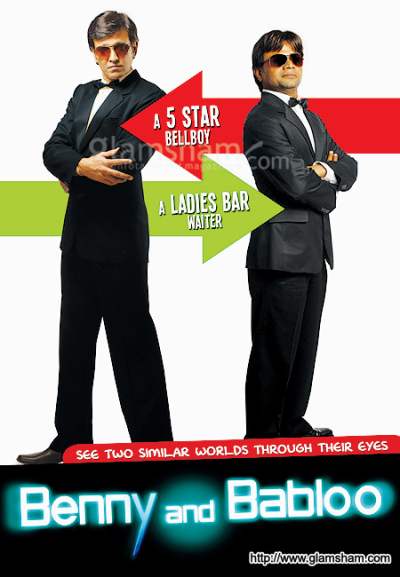 Movie Name: Benny and Babloo
Release Date: 27/08/2010
Director: Yunus Sejawal
Cast: Kay Kay Menon, Rajpal Yadav, Riya Sen, Shweta Tiwari, Rukhsar, Natassha, Richa Chadda, Maushumi Udeshi, Hiten Paintal, Aasif Sheikh
Genre: Comedy
Language: Hindi
Synopsis
A story about two guys Benny and Babloo(Kay Kay Menon & Rajpal Yadav) who are extremly fasinated by the glamour of Mumbai.
The movie revolves around these two friends who work at two different places after starting their carrer together. Benny takes up the job of a waiter in a 5 star hotel, while Babloo lands up at a ladies service bar. However the actual truth lies behind the curtains in such situations.
It has majority of high profile personality facts and the blind fold towards them. Many actress like Shweta Tiwari, Richa Chaddha,Riya Sen and more are a part of this venture.