Some love her cool, devil may care attitude, some loathe her straight forwardness, yet most follow her every single fashion statement. Like they say – you love her, you loathe her, but you surely cannot avoid Rihanna and her spontaneous and whacky dressing sense.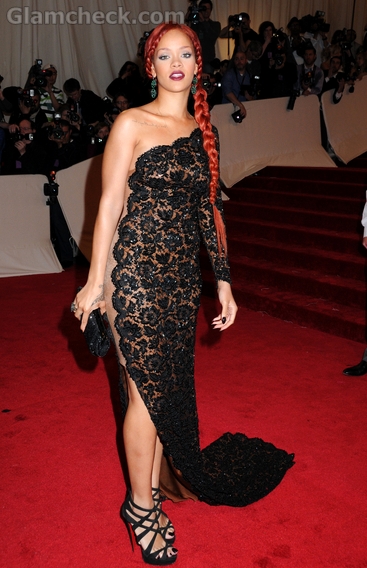 Dressed in a Stella McCartney asymmetrical one sleeved lace dress in black, Rihanna managed to marry drama with sophistication. The long slit on the dress made it even more dramatic.
Rihanna kept up with the dramatic look with more color in her makeup and accessories. She wore a deep brownish red berry lip colour, light grey smoky eyes and Wilfredo Rosado Turquoise coloured drop jewels. Her Christian Louboutin tie up heels in colour black went well with the dress.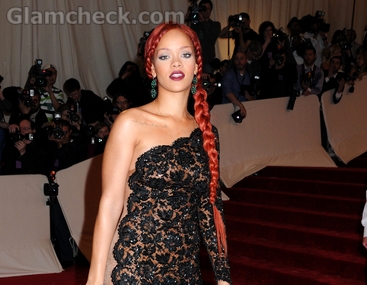 Rihanna hairstyle : Red french braid
Another talk of the evening was her hairstyle, where, her long red hair were styled into French braids on either side and connected into one long braid which was flung on to one side. It was a demure look and quite different from what we normally see on her.
Singer Rihanna has fanned a debate between the fashionistas worldwide with this look. Some term her look as hot, some utter trash – well, as they say, there is nothing called negative publicity in the fashion world.
What do you think – is her look HOT or NOT?
Image: P R Photos