Spike TV's 2011 Guys Choice Awards saw actress Eva Mendes wearing a draped Roland Mouret gown that had quarter sleeves and an open back.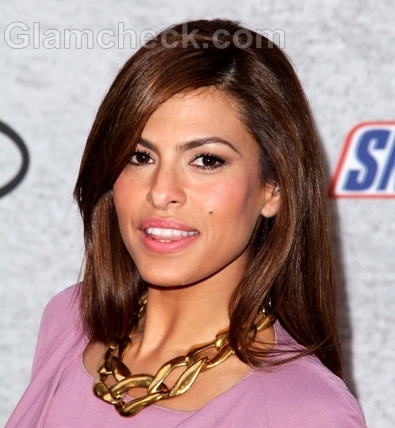 The very fascinating shade of lilac made the Cuban beauty stand out from the rest.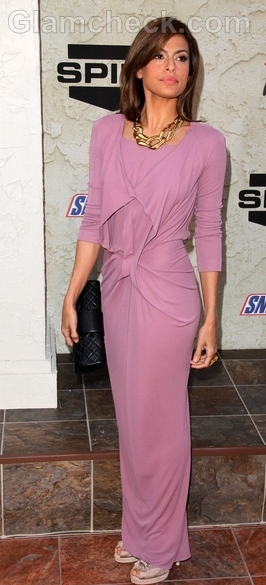 Eva Mendes  in Lilac dress at Spike TV's 2011 Guys Choice Awards
The gown looked nearly perfect except one thing – the black stripe running down the back. Was it supposed to be a belt or what? It gave the appearance of a tail, and that is not the best thing to happen to a dress.
It could have completely taken away from the outfit; however, the rest of the gown was so delightful that it couldn't do much harm.
Eva Mendes wore a chunky chain YSL necklace which looked just right for the attire. We can't imagine any other strong neckpiece that would have held its own or suited the gown, without either taking away from it or making it too busy.
She paired her dress with matching nude lilac peep toe pumps. Her statement ring and Chanel quilted clutch complemented each other in black.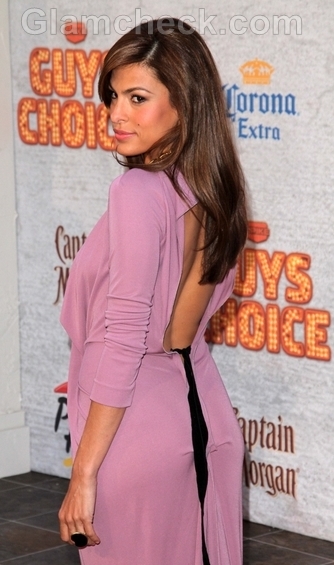 The makeup was kept simple. Her eyes were contoured with white and brown eye shadow and given definition with some mascara. The pink blush and nude pink lipstick suited her outfit and also ensured that the focus remained on the clothes.
The hair was kept open in its natural style and had a side parting. It looked shiny and glossy.
Eva Mendes carried off the draped gown really well without letting it overshadow her.
Image: P R Photos