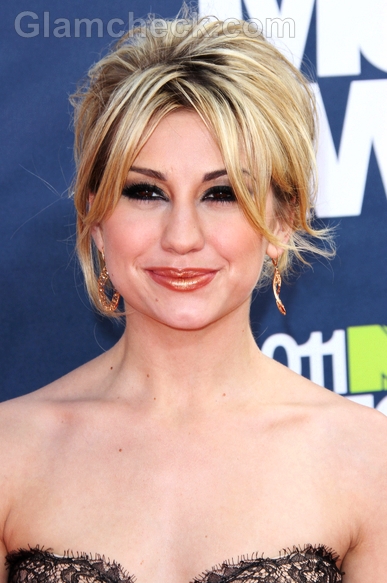 Actress Chelsea Kane wore a nude dress to the Gibson Amphitheatre that played host to the 2011 MTV Movie Awards, and well – that outfit actually made her look nude or at least something close to it.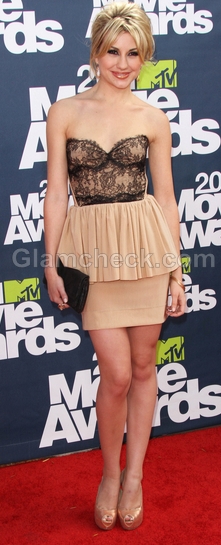 The off shoulder short dress had a black lacy fabric stitched on the front of it, which we guess was trying to pass of as a corset. However, it ended up looking tacky and like something that belonged to a burlesque show. I don't have anything against the 80's style half frilly half tight skirt, but somehow the dress is doing nothing for the actress apart from making her look like she came to the red carpet in underwear that belonged to the 1950's!
The makeup is overdone with a combination of heavy eyes as well as heavy lips. The eyes are coated in layers of black and topped with grey eye shadow. The lips seems to have three colors going for it – a reddish brown outline, beige lipstick and some golden gloss. Now that is definitely a lot! However, we have to give credit to Chelsea for matching her lips to her golden peep toe pumps! She carried a black clutch and wore dainty golden earring.
Kane's hairstyle is the only redeeming feature. The up-do is chic and the carelessly arranged bangs that fall on the face make her look quite cute actually. That, and of course her ever present pleasant smile, is what saved the day for her.
Image: P R Photos