"Covered up" and "Lady Gaga" don't go hand in hand, but that's exactly how the singer was dressed when she arrived for the 2011 MuchMusic Awards at the CTV Queen Street Headquarters in Toronto, Canada.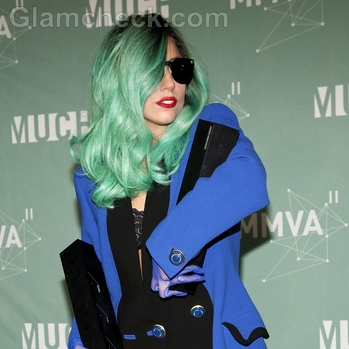 Lady Gaga
The star came dressed in a vintage Versace blazer in blue and black, with a black bra playing peek-a-boo. She paired it with comic book printed leggings in multicolor. Blue diaphanous gloves covered her hands, while the feet were enclosed in black platforms which were studded with golden beads.

Lately, Gaga seems to be quite enchanted with various shades of turquoise– she was seen recently at the 2011 CDFA Awards in a turquoise blue wig, and she decided to wear a turquoise green one for the MuchMusic Awards, though it was of a slightly longer length. Retro sunglasses and red lip shade highlighted her face.
Gaga opened and closed the awards show with a pumped up performance.
Image: P R Photos