You can never go wrong with three things in summer– first the colour peach, second the fabric lace and third, brilliant hairs up do.
Now, if you have a combination of all three, you are bound to have an outstanding presence to any red carpet event and the American actress Katie Cassidy sporting all three looks looked stunning at the recent premiere of the upcoming movie Monte Carlo in New York.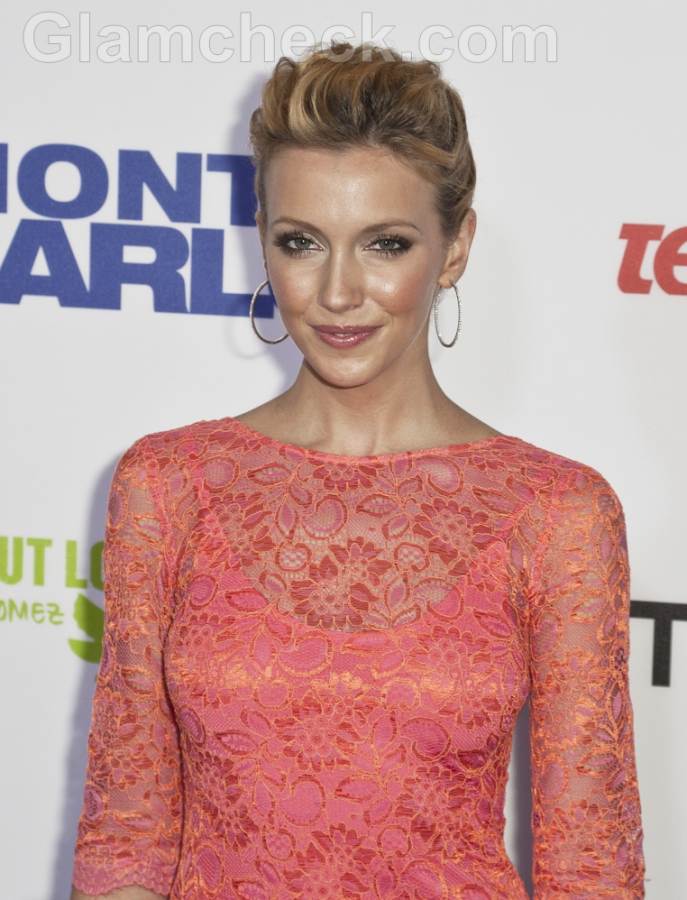 Katie Cassidy wore a bright peach lace shift dress, which hugged her at the right places. The three quarter sleeves, mini dress by Bec & Bridge had a scoop neck at the back, which showed off her well toned back and her Angels wings tattoo.

Katie teamed her bright coral dress with matching pumps by Brian Atwood. She accessorized by wearing big silver hoops. We loved how she let the colour peach work wonders on her makeup as well. Her cheeks and lips reflected the colour of her main ensemble – peach. Her well defined eyes and curled eyelashes further added to the charisma.
And now the third winning streak of her entire get up – her elegant hair do. This has been a season of hair up dos and the red carpet has seen a fair share of them as well. Katie's hair up do was sexy and a great choice for the red carpet. She created the perfect look, by getting all her golden brown hair back to create the illusion of height and then pinned it up to create a wonderful style, fit for the red carpet event.
Glossy makeup, well toned body and a dress to die for – do you think Katie's look struck a chord with you? Do share your thoughts with us!
Image: Shutterstock