Reality TV shows rock, at least that is what I believe. And without starting the discussion on the whys and why nots, one of the most popular Reality show series on the American television 'Project Runway' is currently being shot.
For the un-initiated, Project Runway is a Design show, being hosted on Lifetime Television. Hosted by the super model Heidi Klum, this show has already seen 8 glorious seasons and is about to enter its grand 9th season, with the first episode scheduled to be aired on the 28th of July.
The show, which showcases and challenges 20 talented and amateur designers through inventive tests to be done in a limited time span, judges them primarily to find out their creative ingenuity. The show is hosted by Heidi Klum, mentored by Tim Gunn, creative Officer for the Liz Claiborne group of brand and judged by the famous designer Michael Kors and fashion director of the magazine Marie Claire – Nina Garcia. The contestants also from time to time face innovative challenges by other famous TV and film personalities – Kim Kardashian, Christina Ricci, Zoe Saldana and Malin Akerman to name , a few.
We get you some unseen footage of season 9, as it is being shot, at the Battery Park in New York City recently!
The pictures show that the designers possibly, were put through an inventive test. That of making designs fit, literally, a 'tall order'. You can see the models strutting on stilts, in designs created by the contestants. On the background the celebrity judge panel is busy marking the contestants on various parameters. To me, they seem to be enjoying their duty as the judges of this unique contest too!
The contestants have put their creative hats on, as is evident from the photographs. To have an idea of proportion, when you change the body dimensions is tough and perhaps this challenge is to test how good are the participant designers in scaling their designs.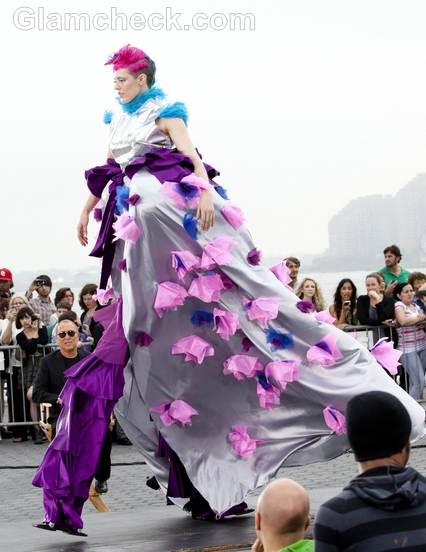 On one hand you have a silver cape with pink and blue satin flowers worn over a whacky frilled pajama,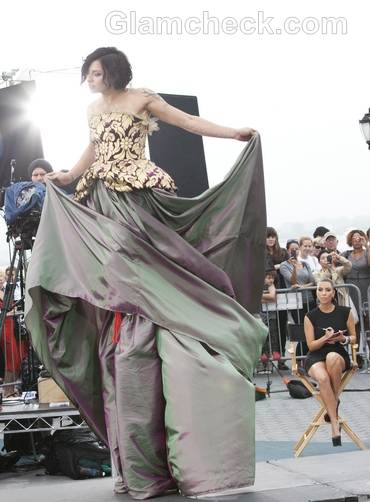 and on the other, you have a leaf printed corset worn over a voluminous silk skirt.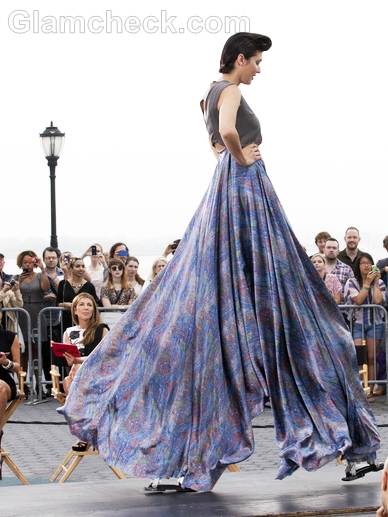 The printed blue handkerchief hem skirt worn with fitted sleeveless black top, looks wearable.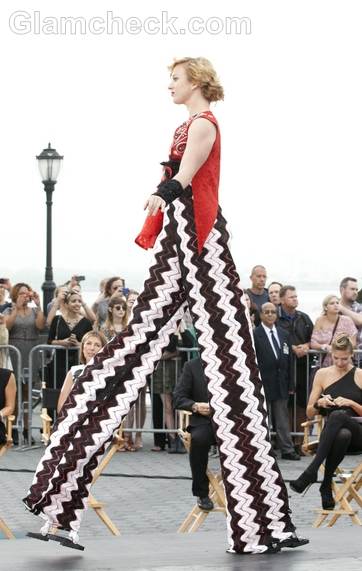 High waist, zig zag print pajamas teamed with an asymmetrical red top also pushes the envelope on the whackiness quotient.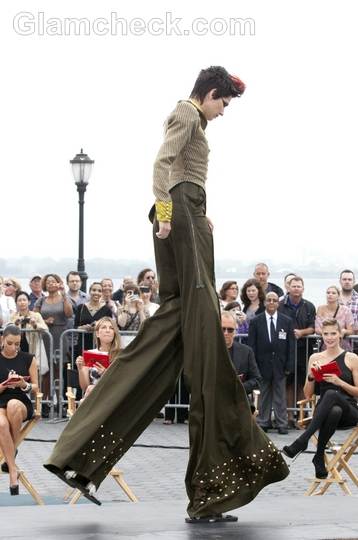 An olive embellished parallel pant teamed with a full sleeved top also shows the creativity of the participants.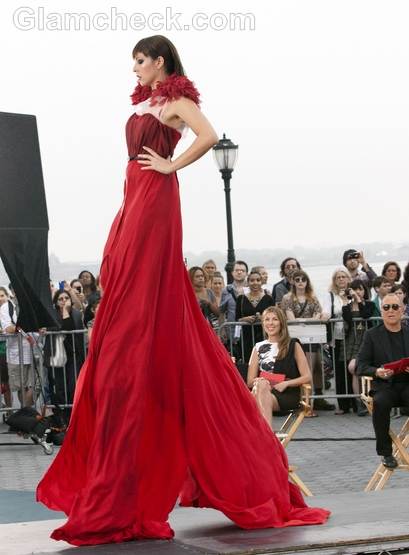 Perhaps, the most wearable of the styles is the red floor skimming gown, which is not only less whackier , but also personally my favourite from amongst the lot.
So what do you think of the designs created by the participants of Project Runway. Do you have any favourites? For more such fashion updates on designs and ideas, keep coming back for more at glamcheck.com
Image: P R Photos