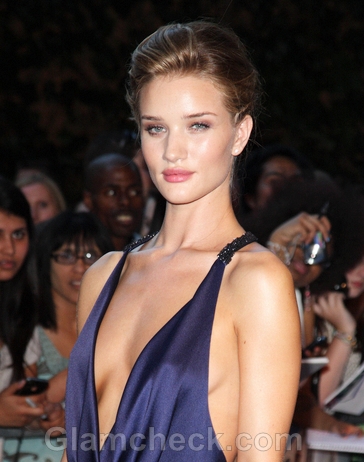 Model turned actress, Rosie Huntington-Whiteley looked absolutely breathtaking at the London premiere of her movie Transformers: Dark of the Moon – the third movie in the franchise. Rosie was dressed in a midnight blue gown, which, in a way, seemed to do justice to the name of the film itself. The attire was a custom fit one made by Burberry – the brand which the actress herself has modelled for.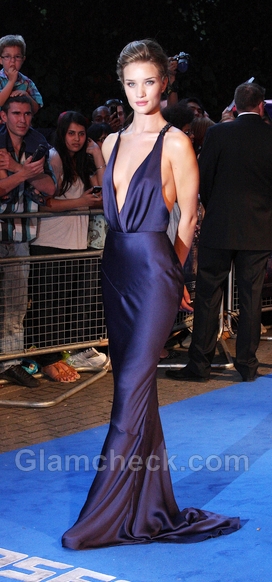 The satin gown had a plunging neckline that nearly went on till her navel. The sapphire colored outfit had sequined detailing that extended till her back in a "y' pattern, and did the work of suspenders. The floor length gown ended in a little trail at the back. The dress in itself had a "wow" factor.
Rosie wore her hair in a very classic updo that went hand in hand with her ensemble. The makeup was kept rosy with pink lips and cheeks – the eye shadow too had a rosy hue, as if to complement her name! The actress kept her accessories to a bare minimum with only a pair of studs adorning her ear.
Transformers 3 is Hungtington-Whiteley's first role as a fully fledged  movie actress and she has been doing a wonderful job at taking our breath away at all the appearances she is making at premieres and red carpets all over the world. Rosie is already quite a favourite with photographers – and with those looks and that style, one does not have to wonder why!
Image: P R Photos