The 'I kissed a girl' singer Katie Perry was spotted at the world premiere of the movie 'The Smurfs' at the Ziegfeld Theatre in New York. The star was very appropriately dressed for the occasion. She had, just, the right dress on, for the show. Katie wore a short, white tube dress with the picture of a smurf emblazoned on the front. She looked every bit a 'smurfette' herself.
She looked very chic and trendy in the outfit. The shoulder-less dress gave the illusion of an hour glass figure. The 'boob tube' accentuated her assets beautifully.  The newly blonde star who is known for her flamboyant style of dressing, wore the white dress that sparked with glitter. The sequin-glittered smurf added colour and glamour to the otherwise plain dress. The dress, which was fitted on the torso flared out like a ballerina's costume at the hips, giving her figure a fuller shape. The mini dress showed off Katy's long legs and highlighted her cleavage.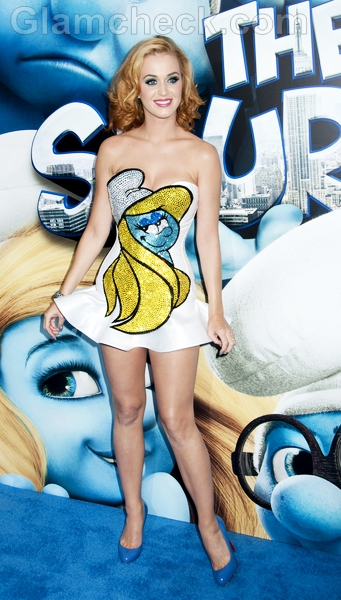 Katy matched her accessories to the theme. She wore Christian Louboutin heels in a 'smurf' shade of blue. She chose to wear no jewelry, except a big diamond cuff on her right wrist that added sparkle to the very chic look.
Hairstyle & Makeup
The singer's makeup was absolutely in sync with her ensemble.
Katie wore blue eye-shadow to go with the look and also matched her nails with the smurfy outfit (with pictures of smurfs on them). She wore dark eyeliner, mascara and kohl on her eyes and used pink for her lips.
She wore her blonde hair shoulder length, curled professionally at the ends. There were no stray hair on her face and the look was very structured and tamed.
Katy Perry, who did the voice over for the 'smurfette' in the movie, looked like a smurf at the event. Katy's looked very stylish in the dress. The dress set her apart at the event. Katy is one of the few stars that can carry off most looks without being ridiculed. Katy pulled off the dress with grace.
Image: P R Photos