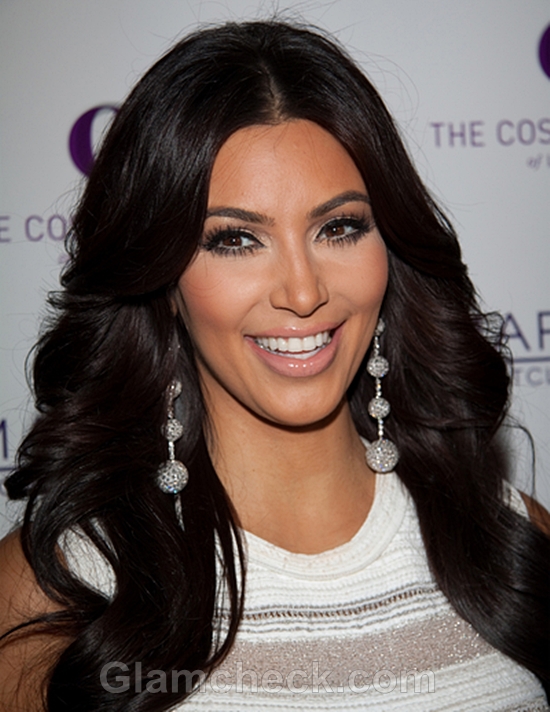 Kim Kardashian turned 31 on October 21st. And the party girl celebrated with more than one bash. On 22nd October, the TV personality had a ball with new husband Kris Humphries, family and friends at the Marquee Nightclub at the Cosmopolitan Hotel in Las Vegas.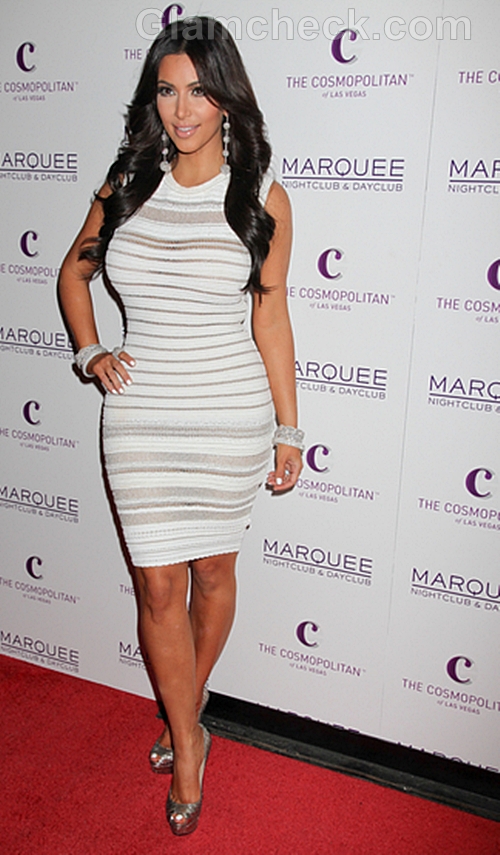 So what did the newly-wed sport on the big day? A white sleeveless dress with horizontal crocheted panels. The knee-length number was figure-hugging and emphasized her generous curves. The crochet panels gave all present a delectable view of Kim's assets.
Kim's makeup was natural with a lot of mascara as usual. Her nails were painted white. And she wore a cute pair of silver peep-toe heels. Her long wavy black hair was parted in the middle and left loose.
What really stole the show though was not the dress or the shoes or even Kim herself but the bling that the celeb was practically dripping in. She had on two diamond bracelets on each hand, a humongous diamond ring on the index finger of her right hand, and a pair of long, bauble-themed dangle drop earrings.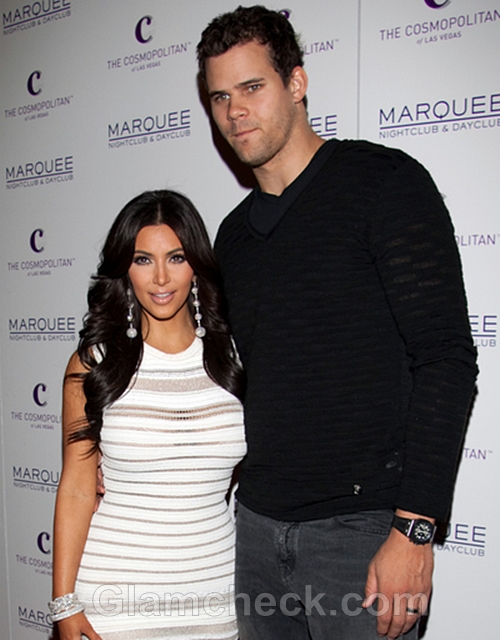 Not a bad ensemble. But one begs the question – Why is the dress so plain? The socialite has sported more elaborate outfits for beach parties and non-consequential events. Considering that this was her first birthday after marriage, you'd expect a little more glam. It's a disappointing choice for such an important day. Where's your normal oomph, Kim?
Get The Look
A sheath dress like Kim's can be worn practically any time and anywhere. Work, party, or casual outing, the sheath dress can be adapted to any situation. A sheath dress can be teamed with dozens of accessories like jackets, scarves, belts, and hats. The type of accessory that will suit you will depend on your body type and your dress. Learn more about how to wear a sheath dress before you try to emulate this look.
But before you go, do you agree that this dress was so-so for someone like Kim? Or do you think she looks as fabulous as she normally does?
Image: P R Photos