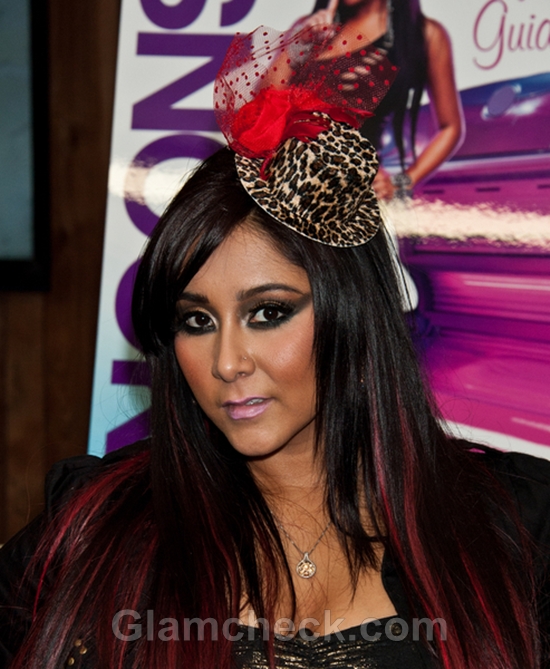 Nicole Polizzi has loudly stated time and again that she doesn't care about people's opinions and will do whatever she wants. The reality TV star most assuredly proves this point time and again, especially in the way that she dresses. Seen again in another expression of nonchalance is Snooki at the Bookends in Ridgewood, New Jersey on October 26 where she made an appearance for a book-signing session to launch her latest literary masterpiece Confessions of a Guidette. This is Nicole's second book. Her first – A Shore Thing – was released earlier this year and has so far sold only 9000 copies.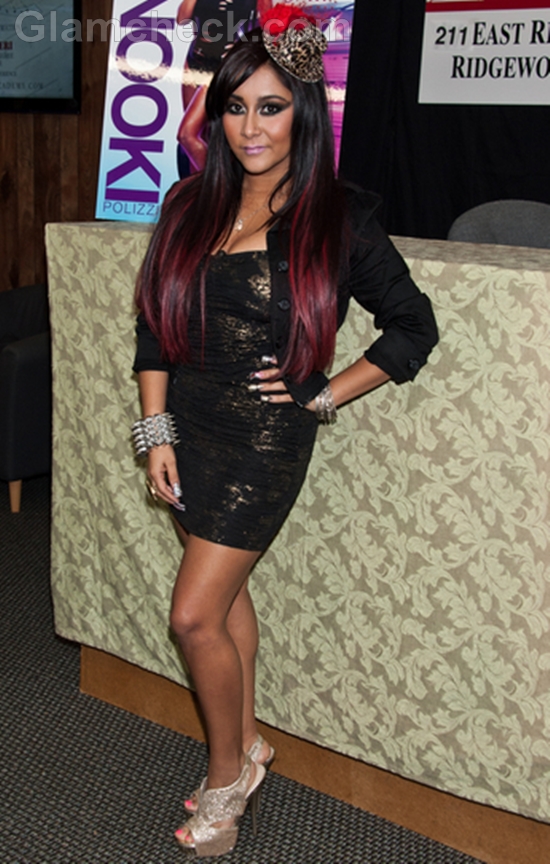 The Jersey Shore star wore a mini dress that had a metallic feel to it. She paired this with a short black jacket that did nothing for the outfit and just looked out of place. To accessorise, she wore a glitzy pair of high-heeled shoes, chunky, shiny bracelets, a chunkier ring, and a teardrop-shaped gold pendant.
The author donned a ludicrous little leopard print hat with red lace. Perched at an angle on her head, it made her look like she'd run through a riot at a mini zoo. She'd also gotten hair extensions and the long, long locks were straightened and left loose, the ends highlighted in a copper red.
For makeup, she went with pink lips and very heavy eye makeup. Her nails were also painted in different metallic shades, which was actually not so bad. She really likes her nail art, sporting multi-colored nails proudly at every appearance – the most recent being at the launch of her new line of designer sunglasses just a few days ago.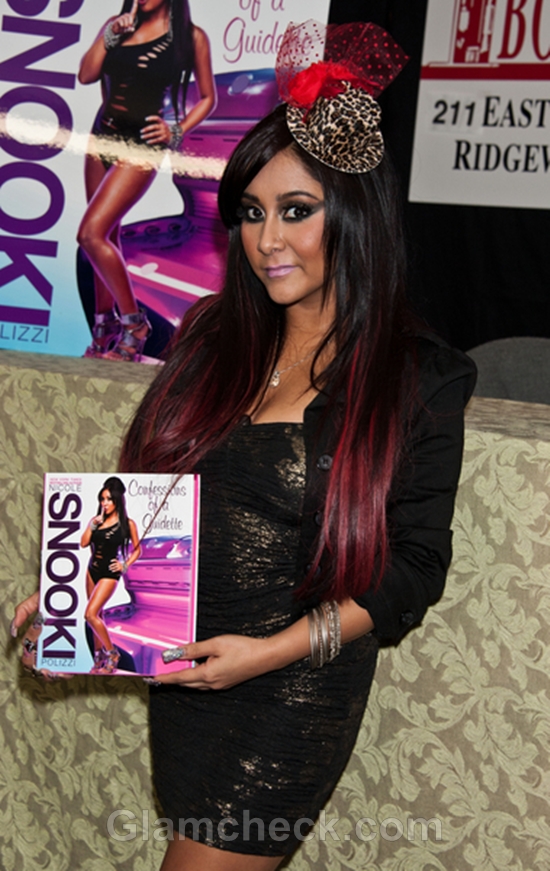 Although this look is not one that most fashion-conscious women would want to emulate, you have to admit that it was the perfect outfit for the occasion. Who would doubt the authenticity of Confessions when Nicole is so convincingly dressed like a true guidette.
What do you think of Snooki's ensemble? Do you cheer her disregard to conform to a more visually-appealing style of dressing? Or do you wish someone would buy her a mirror or sign her up for Tim Gunn's Guide to Style?
Image: P R Photos