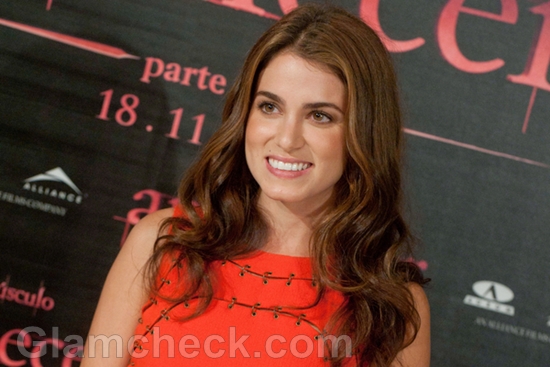 Less than a couple of weeks after her wedding to American Idol's Paul McDonald, Twilight's Nikki Reed is back to work. The last week saw her jet-setting across the world to promote The Twilight Saga: Breaking Dawn – Part I. On October 28, Nikki was in Madrid, Spain at the Villamagna Hotel with fellow Twilight actor Jackson Rathbone for a photocall.
The 23-year-old actress, who is also a talented screenwriter, wore a sleeveless bright orange dress that bordered on red. The A-line cut shift number was plain except for some interesting detailing on the neckline.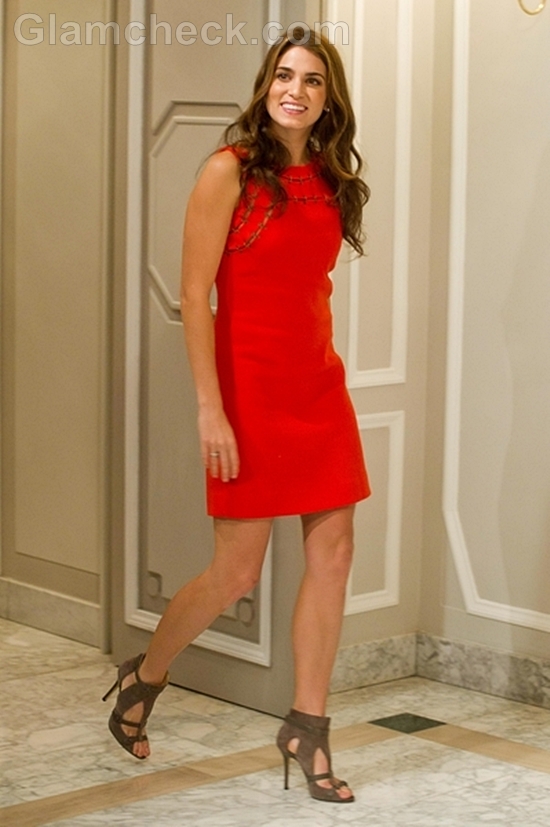 She accessorized her outfit with a pair of very sexy suede sandals by Camilla Skovgaard. The open-toed, high-heeled ankle wrap shoes were what gave her ensemble a glamorous feel. Otherwise it would have been too plain a look for pretty girl. Strappy heels are a trend to keep an eye out for – stars Jennifer Aniston and Fergie have also been spotted in them recently.
Nikki wore her makeup natural, opting for just the barest hint of mascara. Her brown hair was parted at the side and left loose with waves at the ends. This was a simple, sweet look for the newly-wed.
Get The Look
A shift dress should be a wardrobe staple. It can be worn to work, parties, or a casual day out. It can be accessorized in hundred of ways with scarves, belts, jackets, and interesting jewelry to transform it as per the occasion.
Shift dresses are very comfortable and look great on all body types. It's a stylish option for a last minute event when you do not have time to plan your ensemble. In fact, it is very easy to convert a shift dress from a day to night number with the right makeup and accessories.
Image: P R Photos