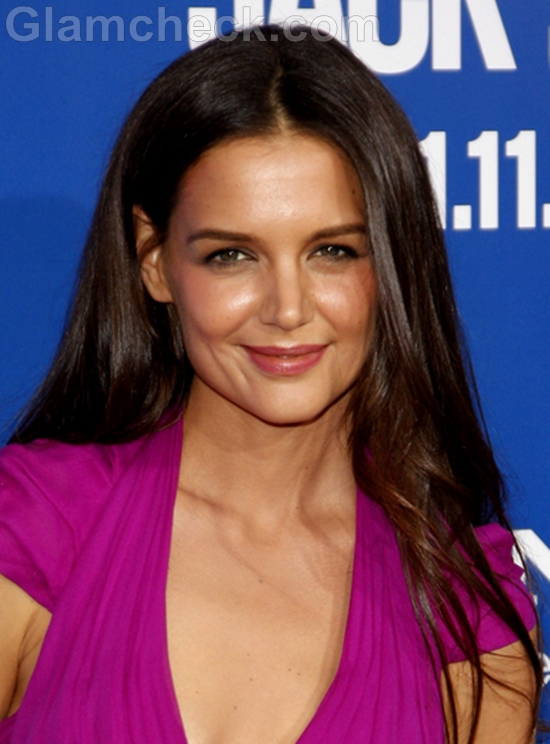 Actress Katie Holmes has been seen is some rather placid fashions since she gave birth to baby Suri. They have not been bad, they were just lacking in oomph. But at the premiere of her latest movie Jack and Jill at the Regency Village Theatre in Westwood, California on November 6, the 32 year old seemed to be making up for lost time with a more fun look than she has sported in years.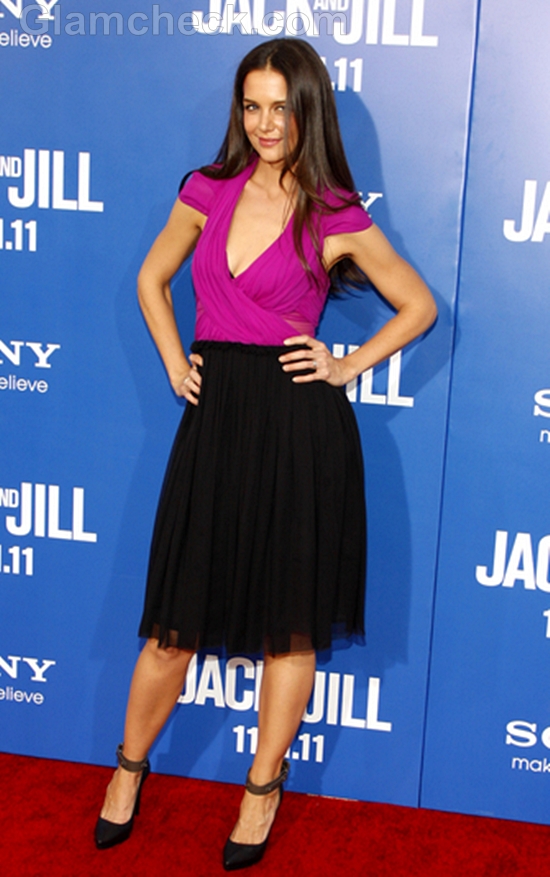 Katie wore a cap-sleeved blouse with a black skirt. The magenta blouse by Holmes & Yang – her very own clothing line – had a criss cross pattern that bared part of her back and was sheer in strategic places on the front, with a plunging neckline contributing to Katie's sex appeal. The risque blouse was balanced by the more demure black flowy skirt which was a modern take on 50s fashion.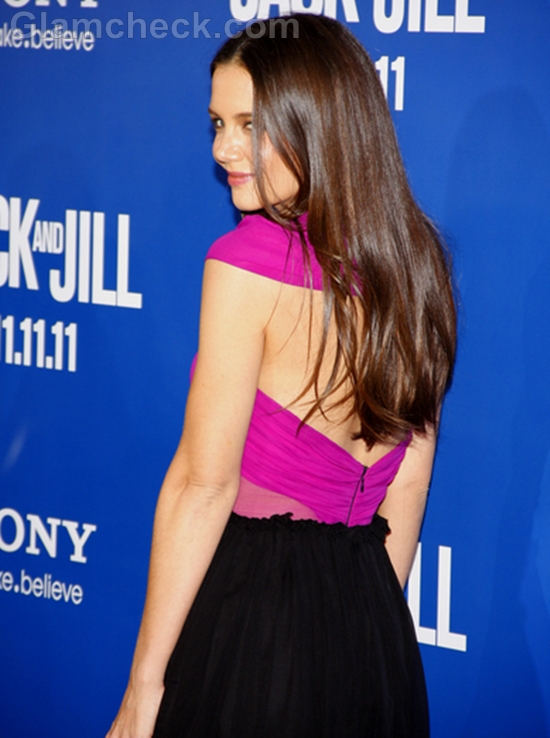 Even more surprising than her attire though were the bondage style heels she wore which were designed by Lanvin. Now that really made it obvious that Katie's tired of sitting in the sidelines and being seen as a goody two-shoes (pun intended) and wants to be taken seriously as a sexy woman with a great bod. We hear you, Katie, loud and clear.
Her deep pink lips and the blush on her cheeks complemented the blouse. She completed the look with softly wavy long hair left loose and parted in the middle. Getting tired of her hairstyle though. She's had this one forever. Time she changed it, don't you think?
Get The Look
When wearing strong colors like the magenta worn by Katie, make sure that there is another part of your ensemble that balances out the more dominating color so that the outfit does not look blindingly garish. If Katie had worn a full dress or gown in that same magenta, it would have been a bit of an eyesore. But the minimal fabric in that color is what really made this look work for her.
It goes without saying that this is not something you can wear to work. But it can be worn to parties, get-togethers with friends and formal dinners and dos. Putting your hair up will allow a backless blouse to really shine. Avoid accessories like jackets or shawls which will take away from everything a blouse like this is bringing to the table.
Image: P R Photos