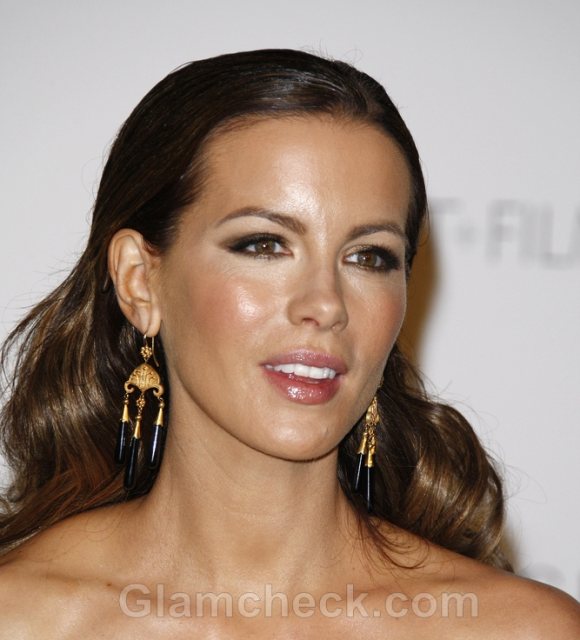 Some stars just know how to work it on the red carpet. And others let their clothes do all the talking. Stunning Kate Beckinsale is blessed with both talents. The actress looked sultry yet elegant in a white gown as she arrived for the LACMA Art and Film Gala which was presented by Gucci at the Los Angeles County Museum of Art, California on November 5.
The 38-year-old donned clothes and shoes by Gucci. The floor-length strapless column gown was sophisticated and did a great job of accentuating her toned arms and slim figure. She accessorised with an interesting gold and black belt. While this dress was an instant hit, her hairstyle left something to be desired.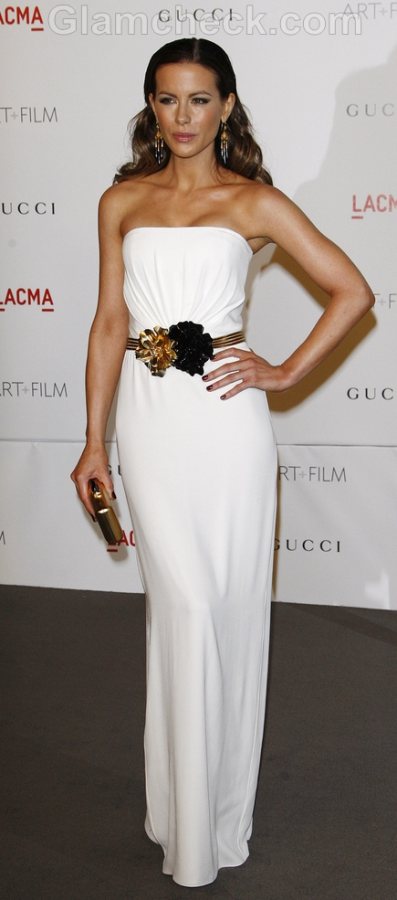 Kate's hair was parted in the middle, slicked down, and fell in curls behind her ears. The slicked down hair is what did not really work for her as it looked flat, greasy and unwashed. That being said, she still looked lovely because she's a natural beauty and nothing short of putting a sack over her head could hide that. Her makeup was flawless with just a hint of pink on her cheeks and lips and some basic dark eye makeup. She completed the ensemble with a pair of dangle gold earrings by Neil Lane and gold clutch by Kura.
Get The Look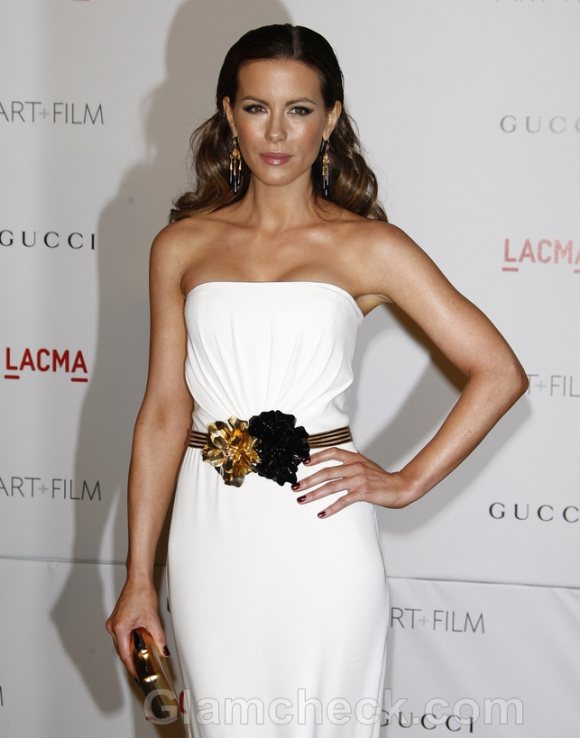 As far as the clothes are concerned, Kate got the look right. The belt was a perfect addition to liven up the ensemble. Anything more or even less would have taken away from the final effect.
It's always a little tricky deciding on a hairstyle for a strapless dress. If you put it up and are wearing no jewelry, it can make you feel too snooty or make a simple strapless dress appear too plain or even give you too much exposure if the dress is particularly skimpy. If you have longish hair and you leave it down, it takes away from the beauty of the strapless style. So the hairdo will depend on several factors like the style of your strapless dress, whether you are wearing it for a formal or informal event, and most importantly what you are comfortable with.
Full-length strapless dresses are best worn for night-time formal events. A knee-length strapless dress with some color can be worn in the day.
Image: Shutterstock